Russia, U.S. Seek Aleppo Truce as Violence Spikes in Syria
by and
UN envoy says cease-fire may be used to restart talks on Syria

Syria's most populous city before the war engulfed by violence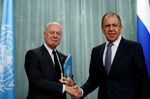 Russia and the U.S. said a cease-fire may soon be announced for the besieged Syrian city of Aleppo, which the United Nations believes could help restart talks on ending a five-year civil war.
Russia and the U.S. are completing an agreement on the cessation of hostilities and a decision is possible "in the near future, maybe even in the next few hours," Russian Foreign Minister Sergei Lavrov said Tuesday in Moscow after talks with the UN's envoy for Syria, Staffan de Mistura. That could pave the way for a new round of talks between the government and opposition in Geneva, according to de Mistura and U.S. Secretary of State John Kerry.
Ending an upsurge of violence around Aleppo, Syria's most populous city and its main commercial hub before the war, is crucial to restoring a truce brokered in February by Russia and the U.S. Syrian rebels and forces loyal to President Bashar al-Assad have traded rockets and bombs across Aleppo and its outskirts for almost two weeks in clashes that have escalated as the government tried to retake the northern city.
"May is going to be an important month for Syria and for all of us," de Mistura said. If hostilities cease in Aleppo, then "we will be restarting and pushing also for the humanitarian access and for the intra-Syrian talks. Everything is connected, nothing is a condition but everything is connected."
'Escalation of Violence'

Kerry said in Washington that an accord renewing a partial cease-fire nationwide should come "as soon as possible." White House spokesman Josh Earnest said the U.S. is "concerned by the continued escalation of violence in and around Aleppo," while adding that Russia needs to do more to secure a truce.
"The Russians have previously been successful in persuading the Assad regime to abide by the cessation of hostilities," Earnest said Tuesday. "We need the Russians to do again what they did once before."
The conflict in Syria has killed at least 270,000 people, forced millions from their homes, sparked Europe's biggest migrant crisis since World War II and enabled Islamic State to gain control of territory from which it plotted terrorist attacks in Paris and Brussels. The Syrian Observatory for Human Rights, a U.K.-based monitoring group, said Tuesday that 279 civilians, including 54 children, have been killed in the violence in Aleppo in the past 12 days.
Conditions weren't yet in place for direct negotiations between the Syrian government and its opponents, according to Lavrov. Russia, which has been waging an air campaign in Syria for seven months, is urging the U.S. to convince its partners to drop as a precondition for talks their demand for Assad's ouster, he said.
Working, Focused
The U.S. and key allies have repeatedly said the Syrian leader cannot be part of a long-term political solution to the crisis. Meeting with Kerry on Monday, Saudi Foreign Minister Adel al-Jubeir said that "Assad's days are numbered."
"He can leave through a political process, which we hope he will do, or he will be removed by force," al-Jubeir said.
The government in Damascus has made several attempts to wrest control of a portion of the city and the rest of the province still under rebel control. At least 19 people, including three children, were killed in rebel shelling that hit a hospital and residential areas in government-held areas in Aleppo on Tuesday, according to the Syrian Observatory for Human Rights. On April 28, airstrikes on a hospital supported by Medecins Sans Frontieres in a rebel-held area in Aleppo killed at least 50 people, according to MSF.
The UN Security Council on Tuesday unanimously adopted a resolution calling on all warring parties to protect medical staff and facilities and to hold violators accountable.
Before it's here, it's on the Bloomberg Terminal.
LEARN MORE