Pound Weakens as Manufacturing Data Highlights Growth Slowdown
by
Sterling earlier erased year-to-date losses against the dollar

Options suggest pound may fall more versus most major peers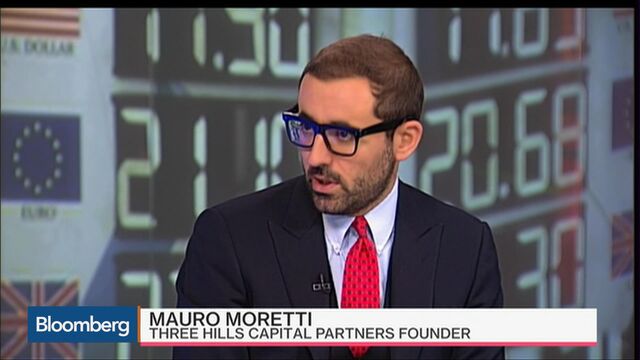 The pound fell as data showed U.K. manufacturing unexpectedly shrank for the first time in three years in April, adding to signs growth is slowing after a report last week showed the economy lost momentum in the first quarter.
Sterling earlier erased its 2016 decline, in an indication that traders saw the likelihood of the U.K. voting to quit the European Union in June receding. The U.K. currency had been down as much as 6.1 percent this year versus the dollar in February, tumbling to the lowest since 2009, amid concern that Britain leaving the world's largest single market would create political and economic turmoil.

While sterling is still lower against 15 of its 16 major peers this year, the dollar has weakened in recent days amid speculation that the U.S. Federal Reserve won't raise interest rates anytime soon.
"The normalization may have maxed out for now," said John Hardy, head of foreign-exchange strategy at Saxo Bank A/S in Hellerup, Denmark. "Any further extension higher in pound-dollar is likely to be dollar weakness more than pound strength. The low came around a global asset-market selloff, with sterling as a major current-account-deficit nation facing an existential referendum not sitting pretty considering that backdrop."
The pound fell 0.8 percent to $1.4552 as of 4:44 p.m. London time. It earlier rose as much as 0.7 percent to $1.4770, compared with $1.4736 at the end of 2015. Sterling weakened 0.7 percent to 79.14 pence per euro.
Bremain Versus Brexit
The Number Cruncher Politics Referendum Forecast, generated by political blogger Matt Singh, shows the probability of the U.K. leaving the EU after the June 23 vote at 22 percent.
Options markets suggest that traders are betting the pound may decline further. Risk reversals indicate they see it falling against all but one of 13 major peers in the next two months.
"There is a heavy dollar-weakness component there," said Roberto Mialich, a senior foreign-exchange strategist at UniCredit SpA in Milan. "This is why I fear that players may ride this rally as long as the dollar weakens, but will progressively cut their exposure as June 23 gets closer. Even if polls give Bremain ahead, I think people will arrive squared at the doom day."
Before it's here, it's on the Bloomberg Terminal.
LEARN MORE