Pope Francis to Meet Privately With Merkel May 6, Vatican Says
by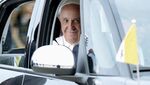 Pope Francis will meet German Chancellor Angela Merkel on Friday for a private audience, a Vatican spokeswoman said.
Merkel will be visiting Rome on Thursday and Friday. She will meet Italian Prime Minister Matteo Renzi on Thursday, and attend a ceremony at the Vatican on Friday during which Francis will be given the Charlemagne Prize, awarded for work done in the service of European unification.
Also attending the prize-giving ceremony will be Jean-Claude Juncker, president of the European Commission, Donald Tusk, president of the European Union, and Martin Schulz, president of the European Parliament.
Before it's here, it's on the Bloomberg Terminal.
LEARN MORE