Pfizer CEO Looks for More Deals as Drugmaker Mulls Split
by
Managers still targeting decision about split by end of 2016

CEO seeking experimental drugs that are close to hit market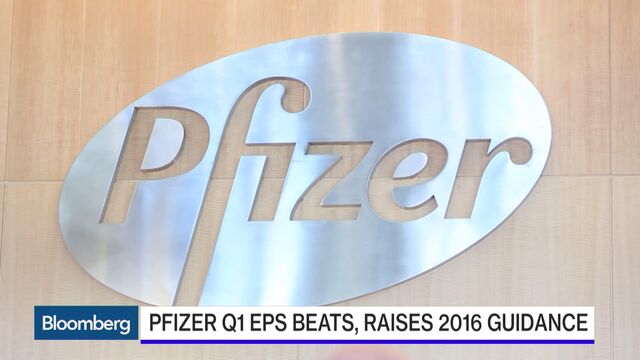 Pfizer Inc. is interested in buying drugmakers with products that are close to hitting the market, while considering a split of the business in the wake of failed takeover attempts of Allergan Plc and AstraZenca Plc.
"At this stage I would chose a late-stage asset because I think we have a lot of products in our own internal portfolio that are going to require substantial research and development funds," Chief Executive Officer Ian Read said in an interview.
Pfizer's managers will decide by the end of the year whether to separate the company, and could have the transaction done by the end of 2017. One consideration is the tax advantages of splitting Pfizer, which walked away from its $160 billion mega-merger with Allergan in April after the U.S. Treasury announced rules that would have reduced the tax benefits of that deal. For now, Read has no plans to pursue another so-called inversion -- whereby a U.S. company uses an acquisition to shift its legal address to a country with more favorable tax rates.
"I'm not particularly willing to look at inversions right now because I can no longer rely on the rules and regulations as promulgated by the government," Read said. Citing uncertainty around how the laws are going to be interpreted, he said "it's very difficult to plan." Still, he left the door open for possible future deals, saying he might consider an inversion under a new administration.
Abandoning Allergan marked the second time in two years that Pfizer dropped a deal of more than $100 billion. Pfizer ended a six-month attempt to acquire AstraZeneca in May 2014 after the British drugmaker rejected its offers as too low.
After the collapse of Allergan, Pfizer may pursue smaller deals. Last year, Pfizer bought Hospira Inc. for $17 billion, gaining an array of medicines and boosting its efforts to develop copies of biological drugs known as biosimilars.

The shares rose 2.9 percent to $33.75 at 3:11 p.m. in New York after Pfizer posted higher-than-estimated earnings for the first quarter and raised its forecast for the full year.
Pfizer's business is run through two arms, one that houses an innovative one that houses new drugs and vaccines, and an established products business that sells older drugs. The established products business has been contracting in recent years, but Pfizer has bolstered its results with last year's acquisition of Hospira.
Earnings excluding some items were 67 cents a share last quarter, the New York-based drugmaker said in a statement, topping the 55-cent average of estimates compiled by Bloomberg. Pfizer also raised its full-year adjusted earnings and sales forecast. The innovative business helped drive the earnings beat.

Pfizer also increased its full-year forecast:
2016 sales will be $51 billion to $53 billion, up from a February estimate of $49 billion to $51 billion.

2016 adjusted earnings per share will be $2.38 to $2.48, up from $2.20 to $2.30.
Net income for the first quarter was $3.02 billion, or 49 cents a share, compared with $2.38 billion, or 38 cents, a year earlier.


Key sales figures for the first quarter:
Total sales rose 20 percent from a year before to $13 billion. 
Sales of Prevnar vaccine products were $1.51 billion, compared with the $1.4 billion average of analysts' estimates.
Pain drug Lyrica sold $1.01 billion, compared with an estimated $1.09 billion.
Cancer drug Ibrance brought in $429 million. Analysts projected $393 million.
Pfizer's innovative products division reported $7.03 billion in quarterly sales, while the established products arm delivered $5.97 billion.
Before it's here, it's on the Bloomberg Terminal.
LEARN MORE