Modi and Jokowi Seek to Revive Their Plans for Economic Reform
by and
Indian stocks, currency and bonds have outperformed Indonesia

Jokowi has more power than Modi to effect change: Nomura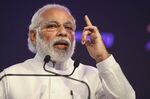 Two years back, they were the most promising leaders in Asia, set to revamp a pair of perennial underperformers that account for a fifth of the world's population.
Now Indian Prime Minister Narendra Modi and Indonesia President Joko Widodo, known as Jokowi, are seeking to revive momentum for reform plans that got derailed in the wake of watershed election victories. For investors, while Modi has been the better bet so far, it's hard to see who has the better chance at success.
"Both impress in different ways -- and disappoint," Hugh Young, managing director for Asia at Aberdeen Asset Management Plc., which has $428 billion in assets. "One man is rarely the solution to a country's problems."
Higher incomes in both India and Indonesia would provide a much-needed boost to global demand as growth slows across the developed world. While India's expansion is the fastest among major economies and Indonesian growth is back near 5 percent, both nations have years of hard work ahead to match China's gains in purchasing power over the past few decades.

Modi and Jokowi share several similarities. Both came from humble beginnings, Modi as a tea seller and Jokowi as a furniture exporter. Both were party outsiders who rose to power on the back of personal charisma, evident in Modi's rousing off-the-cuff speeches and Jokowi's regular strolls through working-class neighborhoods. And both were welcomed by investors, with their election wins spurring currency and stock gains.
Upon taking office, that magnetism could only carry them so far.
Modi, 65, had the bigger mandate after winning a majority in India's lower house of parliament for the first time in 30 years. Immediately following the landslide win, Modi said "the era of divisive politics is over."
He has seen some success, particularly with a shift toward market-based energy pricing, auctions for coal mines and telecom licenses, and an inflation target implemented under the guidance of central bank Governor Raghuram Rajan.
Yet he's struggled to end India's political gridlock. The opposition-controlled upper house has repeatedly blocked a goods-and-services tax that would create a single market in India for the first time. Modi has also backed off on proposals to make it easier to acquire land, simplify labor rules and scrap a retrospective tax on companies.

"Modi's lack of ability to push through real reforms after having a very real political mandate suggests his lack of gravitas," said Nikhil Bhatnagar, New York-based senior vice president for Asian equities at Auerbach Grayson & Co., a brokerage specializing in global trading.
In contrast to Modi, Jokowi faced immediate resistance after taking office from within his party, coalition and bureaucracy. Despite passing one of Indonesia's biggest reforms in decades -- the elimination of gasoline subsidies -- Jokowi also made policy U-turns on a toll road tax and foreign workers as growth slowed to a six-year low.
As of late, however, the 54-year-old Indonesian leader has started to find his footing. Inflation is slowing and infrastructure projects are moving after a massive increase in public spending. Still, slower-than-expected economic growth in the first three months of the year shows the challenges ahead.
"The situation has improved for Indonesia over the past six months," Hans Goetti, the Dubai-based chief strategist for the Middle East and Asia for Banque Internationale à Luxembourg, which has $40 billion under management, said by phone. "Indonesia looks attractive in the near term, while India is a long-term growth story."
India Outperforms
Since the beginning of 2014 -- the year both Modi and Jokowi took office -- India's stocks, currency and bonds have outperformed those in Indonesia.
India's benchmark S&P BSE Sensex Index has gained 10.8 percent in U.S. dollar terms, compared with 3.9 percent for the Jakarta Composite Index. The rupee has lost 7.1 percent against the dollar, compared with 8 percent for the rupiah. India's bonds have also done better, with the yield on the 10-year sovereign note falling 138 basis points compared with a 68 basis-point fall for Indonesia.
Politics, however, is only part of the explanation.
One of the biggest variables is commodity prices. As a net importer, India benefits more from oil's slide than Indonesia, where commodities account for two-thirds of exports.
"India has certain natural advantages which are playing out right now," Manishi Raychaudhuri, Asia Equity Strategist at BNP Paribas Securities (Asia) Ltd., said in an interview.
One key difference between India and Indonesia is structural. In Indonesia, an authoritarian regime until Suharto fell in 1998, the president retains a large influence on policy measures despite efforts to decentralize power.

In India, the powers of the prime minister are limited both by parliament and state leaders. While the federal government can give tax incentives to industries and environmental permits for specific investment projects, states have sway over other essentials like electricity and water supply.
The next few months provide crucial tests for both leaders. Jokowi is looking to pass a tax amnesty bill to lure back overseas funds, a measure that could help raise enough revenue to finance his infrastructure ambitions. Besides the stalled national sales tax, Modi wants to pass a new bankruptcy law, clean up bad debts at state-run banks and attract foreign investment into manufacturing.
"If there is any personal impact, between the two of them -- and assuming both are equally effective -- you'll see the impact more obviously from Jokowi," said Johnny Heng, Asia ex-Japan chief investment officer at Nomura Wealth Management. "In India, it's such a democratic place that whoever you put inside, the effect is kind of washed out."
Before it's here, it's on the Bloomberg Terminal.
LEARN MORE