Oil Producers Need `Sustained Price Signal' Before Output Boost
by , , and
U.S. Energy Secretary sees oil market rebalancing in a year

U.S. oil production has slipped to lowest since October 2014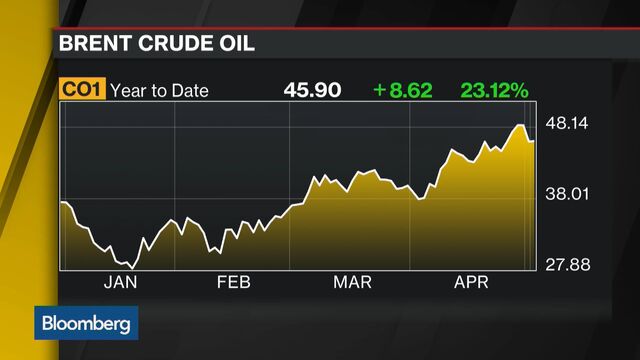 The current oil price rally will only lure global producers into boosting output if it appears to be sustainable, according to the U.S. Secretary of Energy.
"We have had the move up in prices recently, but I don't think the capital investment decisions are going to be influenced until people are convinced there is a much more sustained increase," Ernest Moniz said in an interview on Tuesday in Tokyo.

Oil has surged back from its 12-year low earlier this year, offering a flicker of hope to producers that slashed spending and shutter high-cost fields. The International Energy Agency forecasts non-OPEC production will decline this year by 700,000 barrels a day this year.
U.S. output has fallen 13 of the last 14 weeks, extending its decline after last year reaching the highest in more than 40 years. The country's output surged this decade as new drilling technology opened up production from shale reserves.
"The potential remains there for increasing that production further with a sustained price signal," Moniz said
Spending Cuts
International oil companies have cut spending more than $100 billion last year amid a crash in prices. This contrasts with efforts by OPEC producers Saudi Arabia, Kuwait and Iran to maintain or boost investment in future supplies to expand market share as global demand grows.

The U.S. will produce between 8 million and 10 million barrels of oil a day, according to Moniz.
West Texas Intermediate crude has rebounded more than 70 percent since slumping to the lowest since 2003 earlier this year amid signs a global glut will ease as U.S. production declines. Prices were down 0.8 percent at $44.42 a barrel at 10:22 a.m. London time.
Oil supply and demand will likely rebalance in about a year "barring any surprises," Moniz said Tuesday in Japan, where he attended a meeting of energy ministers from the Group of Seven. Even after the market is balanced, there will still be a large inventory "that will be worked down over time," he said.
Investments in oil and gas production are forecast to fall 18 percent this year after dropping 24 percent in 2015, Fatih Birol, executive director of the International Energy Agency, said in an April presentation.
The G-7 ministers said Monday their countries will promote investing in energy projects through the oil price crash to ensure a steady stream of supply.
Before it's here, it's on the Bloomberg Terminal.
LEARN MORE