Najib Courts Malaysia Voters With Sarawak Visits Before Poll
by
State is a key powerbase for Najib's federal coalition

Sarawak is rich in natural resources like crude oil and timber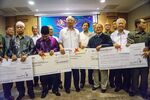 Malaysia's biggest state goes to the polls on May 7, the first election since political tensions began swirling around Prime Minister Najib Razak last July. He's fighting a campaign led by a former premier to get him out over a funding scandal.
Najib has made frequent visits to Sarawak -- more than 50 times since he became prime minister in 2009, including at least twice last week and once this week -- and promised billions of dollars to accelerate development.
The premier moved Wednesday's cabinet meeting to the Sarawak capital Kuching from the usual venue near Kuala Lumpur as he felt he needed to be part of the ruling Barisan Nasional coalition's preparation for the polls, Bernama reported. 
The vote is a test of the popularity of Sarawak Chief Minister Adenan Satem, in power since February 2014, and of the mood surrounding Najib, whose coalition retained power federally in 2013 with its slimmest margin yet. The next national election is due by 2018. Here's how the election works and what it means for Barisan Nasional:
Federal Significance
Sarawak has 31 seats in the federal parliament, the highest among the states and territories, of which BN controls 25. Together with Sabah, the region is considered a "fixed deposit" for Najib's group, relied on to help win national elections.
The national dominance of BN, which has governed Malaysia since independence in 1957, was eroded by an opposition alliance led by former deputy prime minister Anwar Ibrahim in 2013. Najib could have lost power that year if not for the two Borneo states, which contributed about a third of seats won by BN.

Separate Polls
Sarawak is the only state to hold a poll on a different date to national elections, having done so since 1979. That's reportedly because the local government at the time sought to distance itself from the politics of peninsular Malaysia.
The state assembly passes laws on subjects not under the jurisdiction of the national parliament, including land issues, native law and forestry. Najib's party, the United Malays National Organisation, doesn't have a direct presence in Sarawak and he relies on allies from BN component parties to reach out to voters.
Markets, Companies


If BN gets a stronger mandate in the state it could bolster Najib amid the political instability linked to troubled state fund 1Malaysia Development Bhd., said Danny Wong Teck Meng, who oversees about $224 million as chief executive officer of Areca Capital Sdn. in Kuala Lumpur. It would reassure foreign investors by signaling that projects in Sarawak will go ahead, at least until the next general election, he said.
Conversely, if BN wins but with a weaker mandate it's unlikely to affect investors much, Wong said. "So long as they still continue to run the state, whatever plan that's already announced will just continue."
Spending pledges in the state could help construction and infrastructure companies including Gamuda Bhd. and IJM Corp., while Sarawak-based companies Hock Seng Lee Bhd., Naim Holdings Bhd., Zecon Bhd. and Cahya Mata Sarawak Bhd. are potential winners.
Oil, Timber and Dams
Sarawak was the country's third-largest state contributor to gross domestic product in 2015, with an estimated 10.6 percent of output. It contributed half the country's crude oil output and is the sole provider of liquefied natural gas, according to S&P Global Ratings.
At 124,450 square kilometers it is about the size of Mississippi or Greece. The state economy is dependent on exports of timber, crude oil, natural gas and palm oil.
Sarawak is home to one of the world's last remaining virgin rain forests, which covers 70 percent of the state. It has the 2,400-megawatt Bakun hydroelectric dam, one of the largest in Southeast Asia.
Demographics
The state's per capita income ranked third highest in 2013 at 41,115 ringgit ($10,515), versus the national average of 32,984 ringgit. Sarawak's poverty rate was the second highest in Malaysia in 2014.
There will be 82 seats contested, an increase of 11 from 2011. Almost 80 percent of seats are in rural areas, according to Faisal S. Hazis, head of the Centre for Asia Studies at the National University of Malaysia.
About 40 percent of people in Sarawak are indigenous Dayaks while Malays -- the largest ethnic group nationally and the core support group for Najib -- make up about 25 percent. 
Before it's here, it's on the Bloomberg Terminal.
LEARN MORE