Lew Urges Congress to Act to Solve Puerto Rico Debt Crisis
by
Solution must put restructuring in place: Treasury secretary

Says island's debt burden is `in a league of its own'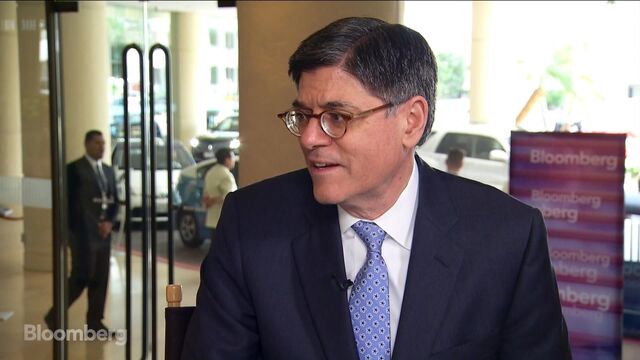 U.S. Treasury Secretary Jacob J. Lew said he is confident a deal can be reached to solve Puerto Rico's debt woes, urging Congress to take action soon as schools and hospitals on the island scale back services.
"Puerto Rico doesn't have decades, Puerto Rico has a crisis today," Lew said Tuesday in an interview with Erik Schatzker on Bloomberg Television. With 3.5 million Americans living on the island, "the need for action is urgent."
Puerto Rico on May 1 missed a deadline for a $422 million bond payment for its Government Development Bank. That has escalated the pressure on Congress to act on legislation to help reduce the island's financial crisis. Lew warned Monday that Puerto Rico faces a series of "cascading defaults" and may need a U.S. government bailout if Congress doesn't act.
"What would potentially do great harm to the muni market is an uncontrolled chaotic unwinding of debt," he said in the interview in Los Angeles.
Puerto Rico racked up $70 billion of debt across more than a dozen issuers as it borrowed to paper over budget deficits. Its next deadline is July 1, when a $2 billion bond payment is due. That includes $805 million for its general-obligation bonds, which are seen as the island's most sacrosanct debt.
Congress returns from recess on May 10 and members plan to release a new version of a Puerto Rico bill that would establish a federal control board to oversee any debt restructuring and weigh in on spending plans. It's unclear whether the legislation would become law by July.
"Puerto Rico has a debt burden that is in a league of its own in the United States," Lew said during a panel discussion in California. "There is no other municipality that has the amount of indebtedness compared to size."
Before it's here, it's on the Bloomberg Terminal.
LEARN MORE