Leicester's Fairytale Premier League Win Worth Extra $74 Million
by
5000-1 Leicester City makes history by winning soccer title

Foxes win league for first time after Chelsea ties Tottenham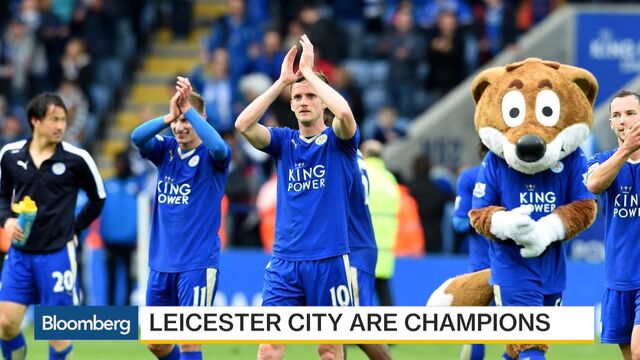 Leicester City are poised to land a 50 million pounds ($73.5 million) earnings boost after overturning odds of 5000-1 to become the Premier League soccer champion, one of the biggest shocks in sports history.
The Foxes, as the 132-year-old team is known, won the first top division title in its history after second-placed Tottenham Hotspur threw away a two-goal lead at Chelsea. That game finished 2-2, meaning Leicester can't be caught with two games remaining. The victory comes a year after the team spent almost all of the previous season trapped in the Premier League's relegation zone.

The final whistle at Chelsea's stadium was cue for wild celebrations in the East Midlands city of 330,000 people, with fans streaming onto the streets from pubs and homes. Leicester, which as recently as 2009 was playing in the third tier, will be taking its place alongside some of the world's biggest clubs including Real Madrid, Barcelona and Bayern Munich in European soccer's elite Champions League next season. Playing in that competition as well as a merit payment from the Premier League and a boost in sponsorship could bring Leicester 150 million pounds in annual revenue, according to sports intelligence company Repucom. Leicester had sales of 104 million pounds last year.
"I never expected this when I arrived," said Leicester's Italian coach Claudio Ranieri, who joined before the start of the season. "I'm a pragmatic man, I just wanted to win match after match and help my players to improve week after week. Never did I think too much about where it would take us."
Prize Money
Leicester will receive more than 90 million pounds from the Premier League for coming first, compared with the almost 72 million pounds it got after finishing 14th a year earlier. Its television audiences globally have grown by 23 percent, according to Repucom, meaning a boost in the value of its sponsorship. Playing in the Champions League is worth at least 30 million pounds for the first debut English soccer champion since local rival Nottingham Forest in 1978.
"The task now is to optimize the value of those assets and ensure they attract the incomes Leicester City could now generate," said Spencer Nolan, head of consulting at Repucom for the U.K. and Ireland.
In Thailand, home of the Foxes' owner, Vichai Srivaddhanaprabha, the best supported teams are Manchester United and Liverpool. On Sunday, when Leicester traveled to United with a chance of clinching the title at Old Trafford, about 900 fans watched the game on a big screen outside the headquarters of King Power, the duty free company set up by billionaire Srivaddhanaprabha. That match finished 1-1.
"I have been a Leicester supporter for only one week, because I work at King Power," said Lyn Waraeorn, who's never followed football in the past. Elsewhere in the city, the vast majority of fans were rooting for Leicester's red-shirted rivals.
Shoestring Budget
Manchester United, the record 20-time English champion and the league's richest team, spent four times as much on new talent this season than Leicester. Last year, the Foxes paid its whole squad 57.4 million pounds, roughly one-quarter of what Chelsea paid en route to its 2015 title. The success has made stars out of a group of players who were largely unknown before the odyssey began. Forwards Riyad Mahrez and Jamie Vardy won the two-biggest prizes for best players this season, with Mahrez being nominated the top player by his peers in the league, and Vardy chosen by the U.K.'s sports writers.

Should Leicester want to cash in, it could make more than 60 million pounds on selling just those two players, according to reports in U.K. media, who value the two players at about 30 million pounds each. Still, Leicester, and the league's other 19 teams, will drive a harder bargain from next season when a new domestic and international television rights deal begins. Even the last-placed team will get as much as this season's champion thanks to the more than 8 billion pounds the clubs will share over the next three years.
Leicester's success took everybody by surprise, including bookmakers and the team's own merchandising department. The top high street bookmakers in the U.K. are expected to pay out 10 million pounds, according to William Hill Plc spokesman Rupert Adams, whose company will lose 2 million pounds to betters on Leicester, including a handful who took the fanciful odds of 5000-1. Fans, late to the party, also missed out on buying replica jerseys. They've been sold out for months.

As well as building momentum from a late run of wins that saved it from being relegated last season, the Foxes have also benefited from poor performances from the league's biggest teams. Chelsea will finish with a lower points total than any other previous champion in Premier League history, while Manchester United, Arsenal and Liverpool have all under achieved.
"Everyone's worked so hard for this, nobody believed we could do it, but here we are, Premier League champions and deservedly so," said Wes Morgan, Leicester's captain, a journeyman 32-year-old defender who spent most of his career outside the top flight.
Before it's here, it's on the Bloomberg Terminal.
LEARN MORE