Gold at Two-Year High Smothers Demand in Second-Biggest User
by
Prices in Mumbai have climbed to the highest since March `14

Buying for the Akshaya Tritiya festival is subdued this year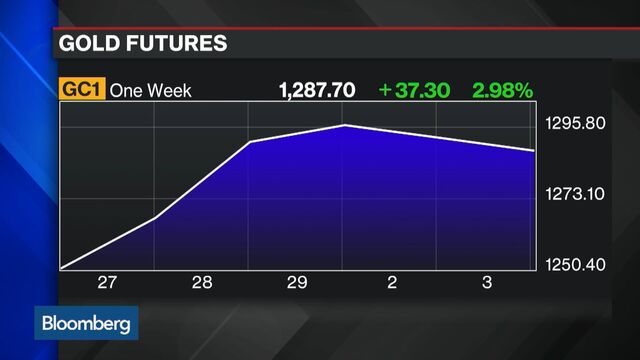 Gold demand in India, the world's second-biggest user, will probably shrink in the second quarter as a surge in local prices to the highest in two years deters buying for a festival next week and weddings this month.
Purchases may slide to about 100 metric tons in the three months through June from 125 tons in the period to March and 154.8 tons a year earlier, said Bachhraj Bamalwa, a director with the All India Gems & Jewellery Trade Federation. Imports were probably 15 tons to 20 tons in April and 15 tons in March, he said by phone from Kolkata this week.
QuickTake Gold's Ups and Downs
Prices in Mumbai have jumped 21 percent this year and reached the highest since March 2014 on Monday. That reflected gains in global rates as worries over the world economy prompted the U.S. Federal Reserve to refrain from further increases in borrowing costs, boosting the appeal of non-interest bearing assets such as bullion. Akshaya Tritiya on May 9 is considered by the majority Hindu population as the second-most auspicious day to buy gold.

"Normally people place orders in advance so that they can lock in the gold price but we have not seen that this year," Bamalwa said. "This quarter only the month of May is left as demand slows after June 15 and the prices are at the highest level now, so people will resist buying gold."
Rural Areas
Consumption has already been hurt by a jewelers' strike in March and last year's poor monsoon, which reduced incomes in rural areas, the source of 60 percent of demand. Jewelers shut shops for almost three weeks to protest against a 1 percent excise tax on ornaments made and sold in the country. An almost dry winter after the first back-to-back shortfall in monsoon rain in three decades cut harvests of everything from rice to sugar cane.
Drought conditions in parts of India mean that purchases in rural areas during next week's festival will decline, Ketan Shroff, a spokesman at the India Bullion and Jewellers Association, said by phone from Mumbai.
There could be some relief in sight. Rains during the monsoon season from June to September may be above normal, the India Meteorological Department said last month. The monsoon affects both summer and winter crop sowing, and waters more than half of all farmland. Good rains will provide an impetus for demand in the final quarter, especially during festivals such as Diwali, as long as prices remain stable, Bamalwa said.
India imported about 894 tons of gold in the year ended March, down from 1,133 tons in the previous 12 months, according to a person familiar with provisional government data. The nation ships in almost all the gold it uses.
The introduction of bond and deposit plans to lure investors and boost circulation of idle gold within the country has had little impact so far, Bamalwa said. "The amount collected is peanuts compared to annual demand," he said.
Futures in Mumbai climbed 12 percent in the past year and touched an intraday high of 30,538 rupees ($458) per 10 grams on Monday. Spot gold in London increased 7.8 percent to $1,280.95 an ounce.
Before it's here, it's on the Bloomberg Terminal.
LEARN MORE