No End in Sight for European Banks' Cost Cuts as Revenue Slumps
by
UBS, Commerzbank face low interest rates, risk-averse clients

European banks' post lower revenue at 17 of 19 operating units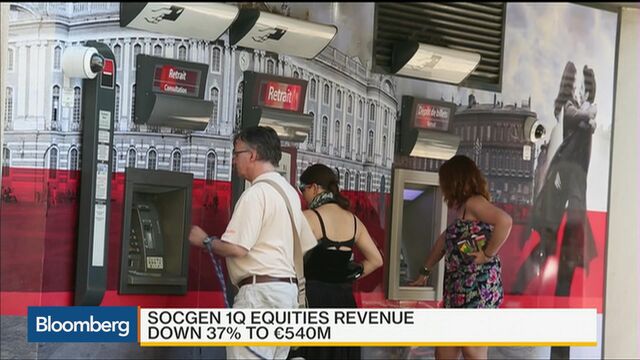 Record-low interest rates and wild market swings are eroding profit at Europe's banks, with no end in sight.
From UBS Group AG's wealth-management unit to Commerzbank AG's consumer-lending business, income is shrinking as margins get squeezed and clients avoid trading. Executives at the banks, two of Europe's largest, warned not to expect an improvement soon.
"Commerzbank and UBS confirmed structural difficulties at European banks with generating profits when interest rates are at record lows," said Mario Spreafico, who oversees 1.5 billion euros ($1.7 billion) as chief investment officer at Schroders Wealth Management Italy. "Banks can only seek to improve their earnings through aggressive cost cutting."
Lenders across the Continent are struggling to increase revenue as the European Central Bank pushes interest rates below zero, regulators demand bigger capital buffers and market volatility spooks investors. While the banks have already fired thousands of workers and sold off billions of euros of assets, their best option to boost profit is to keep cutting, investors said.
Earnings Challenge
Societe Generale SA, the second-largest French lender, said Wednesday it will cut an additional 220 million euros of costs by the end of 2017, bringing savings across the bank to 2 billion euros. Chief Executive Officer Frederic Oudea told Bloomberg Television it's not clear when the bank will be able to reach a goal for a return on equity of 10 percent. The measure of profitability was 7.1 percent in the first quarter, even as improved consumer-banking results lifted net income.
"At the moment, all management can do is keep costs under control and this won't change any time soon," said Gary Kirk, founding partner at London-based TwentyFour Asset Management LLP, which oversees 5.4 billion pounds ($7.9 billion) of fixed-income assets, including UBS and Commerzbank bonds. "European banks have a major earnings challenge."
Falling Shares
Those concerns have driven the Bloomberg Europe Banks and Financial Services Index down about 21 percent this year, leaving its 39 members trading at an average of 0.68 percent of book value. That means they are worth less than investors would expect to receive if the firms liquidated assets. The index was down 0.9 percent at 11:50 a.m. in London on Wednesday.
Five large European lenders that reported results on Tuesday and Wednesday -- UBS, Commerzbank, BNP Paribas SA, HSBC Holdings Plc and Societe Generale -- have a combined 19 operating divisions with businesses ranging from French credit cards to U.S. stock trading. Revenue fell in 17 of them.
At UBS, Chief Executive Officer Sergio Ermotti has staked his bank's future on managing the fortunes of the world's wealthiest. This model came under pressure as rich clients avoided risk and the lender carried out an "abnormally low" number of transactions on their behalf, Ermotti told analysts.

UBS's investment bank, meanwhile, posted its worst first-quarter performance since the financial crisis as deal-making slumped. The unit's costs, which fell 26 percent to 1.5 billion Swiss francs ($1.57 billion), are still too high, leaving it at the mercy of turbulent markets, according to Christopher Wheeler, an analyst in London with Atlantic Equities LLP.
Ermotti, who has cut staffing at UBS by more than 4,000 since taking charge in late 2011, is looking at "tactical adjustments to its cost base," he said.
The surprise was that management did not signal more aggressive cost control to respond to what Ermotti called "paralyzing volatility," Morgan Stanley analysts led by Huw van Steenis wrote in a note to clients.
'Difficult Environment'
While UBS is the biggest manager of money for the wealthy, Commerzbank is the largest lender to the Mittelstand, the mass of small and mid-sized companies that form the backbone of the German economy. Operating profit at its Mittelstand unit tumbled 43 percent to 209 million euros from a year earlier because of negative interest rates and regulatory levies.
It's "obviously a very difficult environment," Chief Financial Officer Stephan Engels said in an interview on Bloomberg Television Tuesday. Germany's second-biggest lender, which fell the most in more than three years after first-quarter profit slumped, will "look at all the levers available," he said.
Draghi Effect
ECB President Mario Draghi has reduced interest rates and expanded a program of monthly bond purchases to stoke economic growth across the euro-area amid a global slowdown. About 81 percent of banks across the currency block reported a decline in their net interest margins, or the difference between what they pay for deposits and charge for loans, over the past six months, the ECB wrote in an April 19 report.
In Spain, where souring property loans forced the country to seek a bailout, low interest rates are now a risk for lenders and may affect their solvency, the nation's central bank wrote in its May Financial Stability Report. The banks should seek more efficiency through cost savings, the Bank of Spain wrote.
Some investors say the pessimism is overdone. While the start of the year was "devastating," there are signs the situation is improving, said Lutz Roehmeyer, who helps manage about $12 billion at Landesbank Berlin Investment GmbH.
BNP Paribas, the biggest French bank, said Tuesday that client business at its global markets unit recovered at the end of the first quarter. Pretax profit at the corporate and investment bank dropped by more than half in the period as trading revenue sank. 
HSBC, the London-based lender that focuses on Asia, said on Tuesday that pretax profit fell to $6.1 billion from $7.1 billion a year earlier as revenue fell across each of its four main businesses. Operating costs fell 6.6 percent.
"Clearly, the low interest-rates environment makes it difficult to get improved, profitable revenues," said Karim Bertoni, a portfolio manager at Bellevue Asset Management AG in Switzerland. "This is not changing yet."
Before it's here, it's on the Bloomberg Terminal.
LEARN MORE