Deadly Norway Helicopter Crash Sparks Concerns Over Cutbacks
By
Unions say it's legitimate to raise concerns on safety

Companies in Norway pushing through biggest cuts in 15 years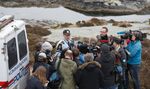 A helicopter crash that killed 13 people on their way back from an oil platform off Norway's west coast has sparked a debate over whether the industry's deepest cost cuts in 15 years are imperiling safety.
While the cause of the crash of a CHC Group Ltd. helicopter on Norway's North Sea coast is still unknown, the accident is a "wake-up call," Leif Sande, the leader of Industry Energy, the biggest oil union in the country, said in an interview.
"It's about time we started a discussion about safety on the Norwegian shelf and what effect the savings programs are having on our safety, because something is wrong," he said. "It's legitimate to talk about these things."
Industry Risks
The first fatal helicopter accident in Norway's oil industry since 1997 coincides with the second consecutive year of cuts by petroleum producers as they try to adapt to a collapse in crude prices. Investments are expected to fall about 20 percent from a 2014 peak, the biggest two-year drop since 2000, as producers led by Statoil ASA, Norway's biggest oil company, delay projects and benefit from lower rates from suppliers from drillers to helicopter operators.
There's no doubt workers are feeling more pressure in daily operations after about 40,000 jobs have been cut from the industry and more downsizing is expected to come, said Sande, whose union is preparing for wage negotiations.

Statoil ASA, for which the CHC helicopter was flying when it crashed, earlier this year awarded Bristow Group Inc. a five-year contract for personnel transportation that includes a target to halve the so-called turnaround time for helicopters to 30 minutes, said Industry Energy's national officer for health and safety, Henrik Fjeldsboe, confirming a report by state broadcaster NRK. Statoil and Bristow should scrap those plans, which "aren't acceptable," he said.
Statoil and Bristow's Norwegian unit didn't immediately reply to calls seeking comment.
In an annual report published on Thursday, the day before the crash, the Petroleum Safety Authority Norway, the industry's watchdog, said safety could be at a "crossroads." 
Lives Lost
An indicator gauging the risk of serious accidents rose for the first time last year since 2012, after reaching a record low in 2014, it said. Injuries and hydrocarbon leaks were on the rise, while a worker lost his life on Dec. 30 as a giant wave hit a China Oilfield Services Ltd. rig working for Statoil in the North Sea.
"It's very worrying that the figures are developing in the wrong direction this systematically," Inger Anda, a spokeswoman for the PSA, said by phone from Stavanger, where most of Norway's oil industry is based. The PSA can neither confirm nor deny that there's a correlation between cost cuts and declining safety indicators, but "it's important to have this debate," she said.
"Safety is the basis, and overrides any measure that would go in the direction of lower costs," Statoil Chief Executive Officer Eldar Saetre said at a press conference on Monday. "That's absolutely fundamental for us."
Statoil, which is majority owned by the Norwegian government, is cutting spending to about $13 billion from $20 billion in 2014, and aims to realize annual cost savings of $2.5 billion in 2016 compared to the 2013 level.
Investigators are still trying to determine the cause of Friday's accident, which killed one Statoil employee and workers from Aker Solutions, Halliburton and Schlumberger among others.
The accident "demonstrates that safety is a perishable good," the PSA's Anda said. "It doesn't matter if you have good statistics historically, if a helicopter crashes or another big accident happens."