Commerzbank Falls Most Since 2013 as Interest Rates Hit Revenue
by
Margins squeezed at consumer and corporate lending businesses

Finance chief Engels says environment is `very difficult'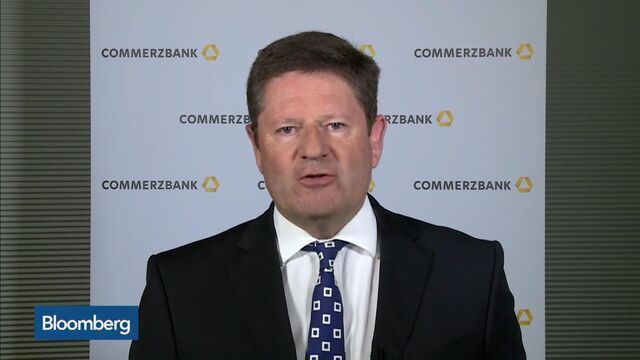 Commerzbank AG fell the most in more than three years after first-quarter profit slumped amid record-low interest rates, which squeezed margins and revenue at the consumer and corporate lending businesses.
Net income dropped by more than 50 percent to 163 million euros ($188 million), the Frankfurt-based company said in a statement on Tuesday. Revenue before loan-loss provisions declined to 2.3 billion euros from 2.8 billion euros.
It's "obviously a very difficult environment," Chief Financial Officer Stephan Engels said in an interview on Bloomberg Television. Commerzbank, Germany's second-largest lender, will "look at all the levers available," he said.
Chief Executive Officer Martin Zielke, who took over from Martin Blessing on May 1, inherited a lender that's winding down unwanted assets. Operating profit at Commerzbank's Mittelstand lending unit fell to 209 million euros, down 43 percent from a year earlier, on negative interest rates and regulatory levies. Commerzbank is the biggest lender to the Mittelstand, the mass of small and mid-sized companies that are the backbone of Germany's economy.

Operating profit at the lender's investment bank fell 72 percent to 82 million euros.
Commerzbank said matching last year's annual profit will be "challenging," reiterating comments made by Blessing on April 20. 
Commerzbank dropped as much as 11 percent, the most since March 2013, and was the worst performer on the benchmark DAX Index.The shares were down 8.7 percent at 7.39 euros at 2:30 p.m. The stock has dropped about 23 percent this year, while the DAX Index has lost about 7.5 percent.
"The quality of the revenue wasn't quite 100 percent," said Neil Smith, an analyst at Bankhaus Lampe, who recommends investors buy the shares. "Net interest income and net commission income are below expectations and the shortfall is being made up by other income, which is generally considered to be lower quality and not necessarily sustainable."
Loan Relief
Loan-loss provisions for the first quarter dropped to 148 million euros from 158 million euros a year ago. The decline was caused by an improvement in the quality of the loan book, the stable German economy and the reduction of non-strategic portfolios, according to Commerzbank. Operating profit slumped to 273 million euros from 670 million euros.
Under Blessing's leadership, the bank boosted returns by shrinking its pile of delinquent shipping and commercial real estate loans, while Zielke's consumer unit cut jobs.
Zielke, 53, a 14-year Commerzbank veteran and member of the management board since 2010, is credited with turning around the consumer business, adding more than 800,000 net new customers since embarking on a restructuring program in 2013.
Commerzbank's common equity Tier 1 ratio, a key measure of financial strength, was 12 percent, unchanged from the end of last year, according to the statement. Net interest and trading income fell to 1.3 billion euros from almost 2 billion euros.
"The weaker revenue contribution from core operating revenue drivers was offset by higher net investment income," Andreas Plaesier, an analyst at M.M. Warburg in Hamburg, said in a note to clients. Plaesier has a hold rating on the shares.
The German bank helped investors exploit a legal loophole that enabled them to pay less capital-gains tax, Handelsblatt reported Tuesday. Commerzbank ensures "through comprehensive internal systems and controls that all trades are in line with the applicable law," the lender said in a statement.
Before it's here, it's on the Bloomberg Terminal.
LEARN MORE