CBS Beats Forecasts as Super Bowl, Grammys Fuel Ad Gains
by
Fees from local TV stations, cable systems also increase

Broadcaster sees more growth as political spending heats up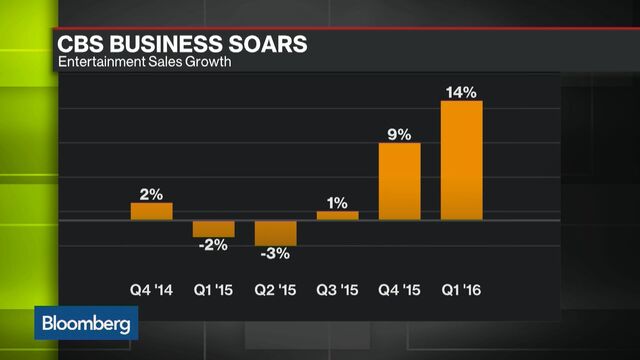 CBS Corp., owner of the most-watched U.S. TV network, posted first-quarter results that beat analysts' estimates as February's Super Bowl and Grammy awards telecasts led a surge in advertising sales.
First-quarter profit grew to $1.02 a share, CBS said Tuesday in a statement, beating the 94-cent average of analysts' estimates compiled by Bloomberg. Sales increased 10 percent to $3.85 billion, topping projections of $3.83 billion.

CBS's broadcast network contributed most of the growth, as ad sales jumped 49 percent and affiliate fees grew 42 percent. Though viewership has declined slightly from a year ago, the broadcaster still attracts a larger audience than any other network, including the younger demographic most important to advertisers.
Advertisers are flocking back to broadcast TV as they realize that "not all digital is created equal," Chairman and Chief Executive Officer Les Moonves said Wednesday in an interview on Bloomberg Television.
"There are certain digital places -- Facebook, Google -- that are doing extraordinarily well, and we have a number of digital assets that are doing well, but I think overall people are saying the best buy is broadcast along with digital," Moonves said.
Total advertising sales for CBS grew 31 percent.
CBS's entertainment division sales grew to $2.59 billion.
Cable network revenue fell to $525 million after benefiting from a Bell Media deal a year ago.


Even without the Super Bowl and additional football games, CBS said underlying advertising revenue advanced 12 percent, a sign of a strong demand from marketers. The network will unveil its 2016-2017 entertainment schedule later this month and begin taking advance commitments for ads. TV executives generally are forecasting a strong "upfront" advertising marketplace in the months ahead.
"The 12 percent growth at the network is extraordinary in this environment and sets up CBS well for the upfront," said Paul Sweeney, a Bloomberg Intelligence analyst.
CBS is exploring strategic options for its radio division, and analysts anticipate the company to spin off the business as it did with outdoor advertising. While a spinoff is the most probable option, the company is also talking with buyers and strategic partners about the business, Moonves said. CBS Radio operates 117 stations in 26 U.S. markets, including WFAN in New York, according to filings.
Shares of CBS rose 2.1 percent to $56.84 at 12:14 p.m. in New York.
Before it's here, it's on the Bloomberg Terminal.
LEARN MORE