Campaign Wrap: Cruz, On the Brink in Indiana, Unloads on Trump
By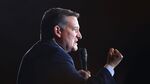 The polls close at 7 pm ET tonight in Indiana, as front-runners Donald Trump and Hillary Clinton try to solidify their leads going into the home stretch of primary season.
RealClearPolitics polling average shows Trump leading Ted Cruz by 10.8 points; latest surveys show Trump support rising

John Kasich trails both Trump and Cruz by significant margins
FiveThirtyEight gives Trump 83 percent chance of winning state, in polls-plus forecast that weights endorsements as well; in site's polls-only forecast, Trump has 97 percent chance
For Democrats, RealClearPolitics has Clinton ahead of Sanders by 6.8 ppts, but Sanders has been on an upward trajectory and race could be close
Clinton has 91 percent chance of winning Indiana, according to FiveThirtyEight's polls-plus forecast; 86 percent chance in polls-only forecast
See Greg Giroux's Indiana primary cheat sheet

TRUMP VS. CRUZ
Cruz unloaded on Trump today, calling him "utterly amoral"; ''pathological liar"; ''serial philanderer''
''He is lying to his supporters. Donald will betray his supporters on every issue,'' including immigration, Cruz tells reporters in Indiana
''It is only Indiana that can pull us back"
Bloomberg's Sahil Kapur: "Cruz sounds a helluvalot like Rubio in his waning days: eviscerating Trump's character, but painfully declining to break his loyalty pledge"
Cruz and Trump spar over whether Cruz's dad, Rafael Cruz, was photographed with JFK assassin Lee Harvey Oswald
"Nobody even brings it up," Trump says; "What was he doing with Lee Harvey Oswald shortly before the death, before the shooting?"
Story originated in the National Enquirer
Cruz campaign replied Trump is running on "false tabloid garbage"
Mark Salter, the former speechwriter of 2008 GOP nominee John McCain, took the opportunity to tweet his support for Clinton: "the GOP is going to nominate for President a guy who reads the National Enquirer and thinks it's on the level. I'm with her"
Cruz tells reporters country "could plunge into the abyss" if Indiana doesn't act to stop Trump-Clinton matchup
Trump responded to Cruz's comments by saying he's "a desperate candidate trying to save his failing campaign"
Says Cruz has become "more and more unhinged" over the last week

ON THE TRAIL
Clinton told MSNBC that she's on "the brink" of being the first female nominee for president
Sanders has "every right" to finish the primary season, she added
The former Secretary of State also said "it truly is an outrage" that former Massey Coal CEO Donald Blankenship was sentenced to just one year in prison
Sanders campaign manager Jeff Weaver said on CNN that "we certainly could win" Indiana primary tonight

DELEGATES
Trump campaign manager Corey Lewandowski said on CNN that he expects Trump to easily surpass the 1,237 delegates needed to secure GOP nomination
"We're going to win on the first ballot"

CAMPAIGN FINANCE
Cruz campaign has more than $9m cash on hand, campaign manager Jeff Roe writes in Twitter post

ETC.
Trump tells London's Daily Mail Obama shouldn't have taken sides on question of British membership in EU
"I would say that I'm not going to give Britain any advice, but I know there are a lot of people that are very, very much against being in the EU"
On EU accepting wave of refugees: "I think it'll go down as a big mistake"
Trump, VP Joe Biden to attend University of Pennsylvania graduation ceremony, in the audience for relatives graduating, AP reports
Neither of them slated to speak; commencement speaker is "Hamilton" creator Lin-Manuel Miranda
Argentinian sports station TyC sports is using Trump's comments on illegal immigration to hype up an upcoming soccer tournament, New York Times reports