BNP Paribas Resists European Bank Slump on Surprise Profit Gain
By
French lender one of few to advance in European bank index

Too early to predict investment bank cuts abroad, CFO says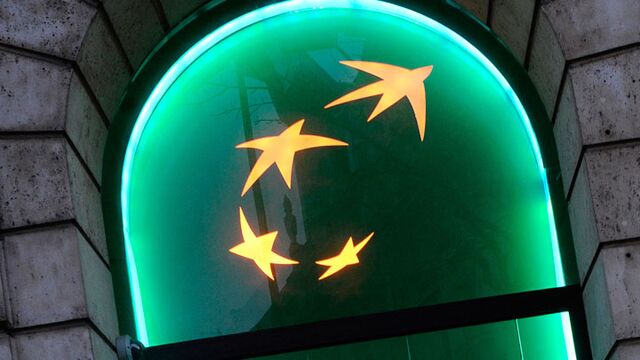 BNP Paribas SA posted a surprise increase in first-quarter profit, with declining provisions for bad loans helping outweigh a slump in trading revenue.
Net income advanced to 1.81 billion euros ($2.1 billion) from 1.65 billion euros a year earlier, the Paris-based bank said in a statement Tuesday. Analysts forecast a drop to 1.26 billion euros, according to the average of eight estimates in a Bloomberg survey. Revenue got a boost from a 365 million-euro accounting gain tied to BNP's own debt.
"This is a clean set of results, no bad surprises and the capital position improved marginally," said Romain Burnand, who helps manage 3 billion euros at Moneta Asset Management in Paris, including BNP shares. "The decline in provisions is better than expected, and the European economic situation is stabilizing."
The bank set aside 757 million euros in loan-loss provisions in the quarter, down about 28 percent from a year earlier, partly because of an improvement at its Italian operations. BNP also said clients had increased their trading toward the end of the quarter. It was one of only two major bank stocks to rise in Europe, where lenders have slumped this year amid market turmoil that has weighed on income from trading securities.
The shares rose as much as 3.8 percent and were up 0.8 percent to 46.31 euros at 11 a.m. in Paris. The 39-member Bloomberg Europe Banks and Financial Services Index fell 2.2 percent, as results from UBS Group AG and Commerzbank AG disappointed investors. BNP has dropped 11 percent this year, outperforming the index's 20 percent decline.

BNP's common equity tier 1 ratio, a measure of financial strength, advanced to 11 percent at the end of March from 10.9 percent three months earlier.
The firm is among global banks cutting costs to help weather record-low interest rates, turbulent markets and tougher regulatory requirements. The lender announced plans last month to eliminate as many as 675 Paris-based positions at its investment bank as part of a 1 billion-euro cost-reduction plan.
The bank's return on equity was 9.4 percent in the first quarter, which Chief Executive Officer Jean-Laurent Bonnafe said was in line with the company's targets through this year.
Cost of Risk
"In a particularly unfavorable market environment, the group's revenues held up well thanks to the diversity of its geographies and businesses," Bonnafe said in the statement. "Operating expenses are well-contained and the cost of risk is down significantly."
Global equity markets had their rockiest start of the year since 2009, weighing on trading revenue. The five largest U.S. investment banks saw their combined sales drop 22 percent in the first quarter. Deutsche Bank AG said last week that debt-trading revenue, its largest source of income, fell 29 percent in the three months through March.
While BNP also suffered trading declines, it said client business "recovered significantly at the end of the period" in global markets activities. Pretax profit at the corporate and institutional bank, as the investment-banking division is known, dropped 55 percent to 403 million euros. Revenue from trading fixed income, currencies and commodities fell by 13 percent from a year before, while sales at its equities and prime-services business plunged 41 percent.
"It's too early to say" what staff reductions could be seen at the investment bank outside of France, Chief Financial Officer Lars Machenil said in a Bloomberg Television interview. "We'll look at this country by country."
Pretax profit at the French consumer-banking unit fell about 5.6 percent from a year earlier, while earnings at the Belgian retail unit rose 47 percent to 88 million euros.
BNP's Italian consumer-banking business, Banca Nazionale del Lavoro, had a 8 million-euro pretax loss as its revenues fell 8.9 percent on lower fees and interest-rate income. It accounted for more than a third of BNP's total provisions for risky loans.
"It's not bad, as the situation was very tense," said Jean-Pierre Lambert, a London-based analyst at Keefe, Bruyette & Woods Ltd. with a buy rating on the stock. Retail banking did better than expected, while investment banking was in line with expectations, he said.