Australia's A$500 Billion Debt Pile to Test Bond Buyer Appetite
by
Net debt forecast to increase to 19.2% of GDP by June 2018

Funding arm flags about A$93 billion in sales next fiscal year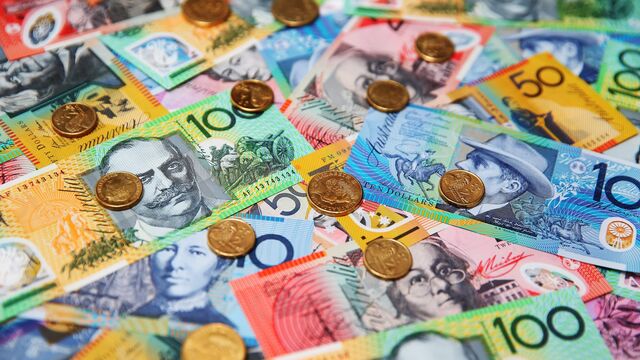 Australia's debt pile will increase at a faster pace as the government struggles to rein in its budget deficit, testing the appetite of global investors that are the biggest buyers of the country's bonds.
The amount of federal government securities on issue is set to rise by as much as A$73 billion ($55 billion) in the next 12 months to as much as A$499.5 billion, according to Bloomberg calculations based on government budget forecasts. That compares with an increase this year of up to A$58.8 billion, calculations show. The government's financing arm will sell about A$90 billion of nominal bonds and at least A$3 billion on inflation-linked securities in the year to June 30, 2017, to cover both fresh requirements as well as maturing debt, it said in an e-mailed statement Wednesday.
While Treasurer Scott Morrison has vowed the government will live "within its means" and projected the budget will return to balance within five years, net debt as a proportion of gross domestic product is set to blow out to 19.2 percent by June 2018. The likely increase in bond issuance comes as buying by offshore investors has failed to keep pace with the market's expansion, taking their holdings down to 63.8 percent of the debt as of December.

"You'd assume that the domestic market is probably going to have to absorb a greater share of government bond sales, given the decline in foreign ownership," said Martin Whetton, an interest-rate strategist at Australia & New Zealand Banking Group Ltd. in Sydney.
The Australian Office of Financial Management will require an "aggressive issuance campaign" not only for 2016-17, but also for the rest of the current financial year, Commonwealth Bank of Australia analysts led by Adam Donaldson wrote in a note to clients after the budget.
Benchmark 10-year bonds rose for a second day, with the yield dropping four basis points to 2.43 percent, poised for its lowest close since April 11.
Australia will auction about A$2 billion a week of Treasury bonds for the rest of this financial year and through June 30, 2017, the AOFM said Wednesday. A new May 2028 bond will be issued via syndication next week with Citigroup Inc., Commonwealth Bank, Deutsche Bank AG, and UBS AG acting as joint lead managers. In addition, new December 2021 and November 2028 notes are planned for the next fiscal year, while an inflation-indexed 2027 security will be considered over and above the regular tenders flagged.
"A further yield curve extension, which would not occur before October 2016, remains under consideration," the AOFM said about its nominal program.
AAA Allure
As one of the few nations with an unblemished AAA credit rating, Australia's debt has been lapped up by international buyers in recent years, while bank liquidity rules and slowing issuance by state governments have bolstered demand domestically. The low level of yields on offer in most other major developed markets has also shored up demand.
Yet with a A$37.1 billion underlying cash deficit to finance in the next 12 months, and a series of shortfalls in the following three years, the government needs bond investors to keep buying.
The total amount of securities on issue has expanded more than sevenfold since before the 2008 financial crisis. Even with the path back to budget balance that Morrison laid out Tuesday, the debt pile is poised to reach A$640 billion by 2026-27.
Gross Issuance
The amount of federal debt securities outstanding is projected to be between A$498.5 billion and A$499.5 billion by June 30, 2017, some A$71 billion to A$73 billion higher than a year earlier, based on the budget documents. There are A$21 billion of bonds maturing in 2016-17.
Back in December, the AOFM had anticipated issuance for this year of A$90.5 billion, although the expected size of the gross debt pile at the end of June has shrunk by A$2 billion since then, according to the Treasurer's latest fiscal plans.
The CBA analysts also said that, with the AOFM facing an A$18.9 billion bond maturity in July 2017, the funding arm may choose to get ahead of that refinancing need and issue an additional A$6 billion of securities in the 12 months to June 30, 2017.
"While issuance is set to increase, the market should be able to absorb this slightly higher supply," said Andrew Ticehurst, a Sydney-based interest-rate strategist at Nomura Holdings Inc. "There's continuing interest from abroad in the Aussie dollar market."
Before it's here, it's on the Bloomberg Terminal.
LEARN MORE