Australia Injects a Double Dose of Economic Stimulus
by
Forecast deficit is larger than projected six months ago

Budget unveiled hours after central bank cut interest rate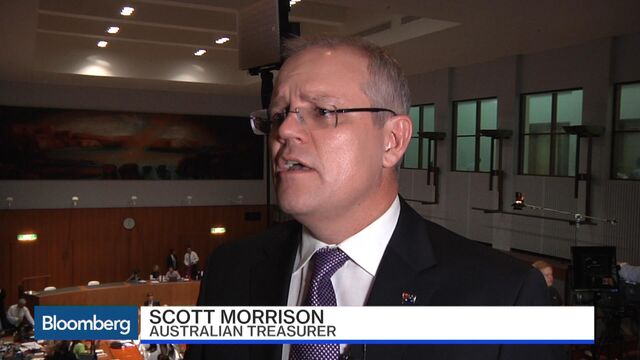 Australia's economy received a double shot of stimulus as the government handed down an expansionary budget hours after the central bank eased policy for the first time in a year.
Treasurer Scott Morrison unveiled a plan on Tuesday to cut company taxes, boost infrastructure spending and provide income-tax relief, as he forecast a A$37.1 billion ($28.1 billion) deficit in the 12 months through June 2017. The fiscal blueprint, aimed at boosting jobs and growth just two months before an election, followed the Reserve Bank of Australia's decision to cut interest rates to a record low 1.75 percent.
"It's good to see that fiscal and monetary policy complement each other," said Paul Dales, a Sydney-based economist with Capital Economics Ltd. who picked the rate cut. He said the budget was positive for growth as it represents "less of a fiscal squeeze."

Australia's fiscal and monetary authorities worked in tandem to help ward off disinflation and sluggish growth that are plaguing much of the developed world. They aim to encourage firms to invest and households to spend in an economy that's increasingly reliant on service industries.
"The government, in a challenging budget environment, is making responsible choices in its national economic plan to support jobs and growth," Morrison said Tuesday. "The Australian economy is transitioning from the largest mining investment boom in its history to broader-based growth."
The currency was more than 1 percent weaker going into the budget after the central bank eased policy and was little changed immediately following Morrison's announcement. It traded at 74.89 U.S. cents as of 8:21 a.m. in Sydney Wednesday. The 10-year sovereign bond yield declined six basis points to 2.47 percent on Tuesday, the lowest close since April 12.
Five hours before the budget's release, RBA Governor Glenn Stevens cited the "lower outlook" for consumer-price growth as global disinflation seeps into the local economy for the rate cut. Stevens repeated that the resurgent Aussie dollar, which has climbed as much as 15 percent since mid-January, could complicate the economy's adjustment.
"Glenn Stevens is doing his job, I'm doing mine," Morrison said in an interview with Bloomberg Television. "I think there's a number of factors" in the RBA's decision to cut rates, he said. "They're all pretty much focused on the inflation side of things."

The RBA chief said Tuesday that the labor market, where hiring reached a record late last year and unemployment fell to a 2 1/2-year low in March, has shown "more mixed" indicators lately. Morrison's budget forecast the jobless rate to drop to 5.5 percent next fiscal year from the current 5.7 percent, with the economy growing 2.5 percent over the period.
Net debt, meanwhile, is predicted to climb to a record 18.9 percent of gross domestic product in the fiscal year through June 2017, and rise again to 19.2 percent in the ensuing 12 months. While that compares favorably with the International Monetary Fund's 69.3 percent forecast for Europe this year, the trajectory of Australia's is worse.
Despite rising debt levels, the government's "fiscal strength is supported by high debt affordability," Moody's Investors Service said in a statement shortly after the budget's release. It warned, however, that a slower pace of fiscal consolidation will leave public finances vulnerable to "negative shocks" such as a potential housing downturn and a reversal in favorable external financing conditions.
Balance the Books
The government maintains it will balance the books. While the 2016-17 deficit was wider than the government forecast six months ago and worse than economists estimated, Morrison reiterated the budget will return to surplus by 2021. In the short-term, Morrison plans to pay for Tuesday's economic program through savings measures as well as higher taxes on tobacco and wealthy people's pension plans.
"There are no real measures to improve the structural deficit," said Su-Lin Ong, head of Australian economic and fixed-income strategy at Royal Bank of Canada in Sydney. "It looks like a bunch of modest measures to run on at the election."

Morrison and his boss, Prime Minister Malcolm Turnbull, enjoyed an initial economic windfall after ousting Joe Hockey and Tony Abbott as treasurer and leader. Growth accelerated, unemployment dropped and iron ore rose more than 50 percent.
Yet at a political level, they overreached on potential policy reform -- particularly tax -- and were later forced to rule out measures including an increase in the consumption tax. Those hasty retreats later lowered the government's standing with the electorate.
Policies announced Tuesday included creating jobs and investment by kick-starting an east coast rail link between Brisbane and Melbourne as well as providing funds to build dams, pipelines and roads.
The government will also lower the tax rate for small businesses to 27.5 percent and pledged a 25 percent rate for all companies within a decade. For workers, a 37 percent income tax rate will kick in at A$87,000 instead of the current A$80,000.
"The two arms of policy are pulling in the same direction, finally, which is good," said Sally Auld, a Sydney-based interest-rate strategist at JPMorgan Chase & Co., who picked the central bank's cut.
Before it's here, it's on the Bloomberg Terminal.
LEARN MORE