Aussie Tumbles as RBA Rate Cut Wrong-Foots Bullish Hedge Funds
by , , and
Currency drops against peers; futures see chance of more cuts

Budget deficit wider than seen as Turnbull seeks to stimulate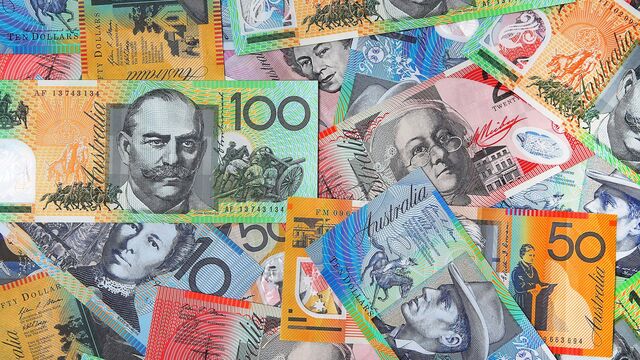 Australia's dollar slid after the central bank cut interest rates to a record, wrong-footing hedge funds betting on the currency's strength, as well as a majority of economists.
The Aussie weakened against all 31 major peers after Reserve Bank of Australia Governor Glenn Stevens and his board lowered the cash rate by 25 basis points to 1.75 percent, as predicted by 12 of 27 economists surveyed. Swaps traders saw about a 50 percent chance of a cut earlier Tuesday. The RBA needs a weaker currency to kick-start a revival in industries outside mining, where an investment boom is halfway through unwinding. 
"They're saying that there's no point in messing around, let's get in and do this, cut the cash rate and get some of the speculative money out of the Australian dollar," said Chris Weston, chief market strategist at IG Ltd. in Melbourne.
The Aussie slid 1.2 percent to 75.74 U.S. cents at 11:11 a.m. in London, after declining as much as 1.5 percent.

Hedge funds betting on the currency's gains have outnumbered those expecting declines since the middle of February. Negative rates adopted by central banks in Japan and Europe and waning expectations of interest-rate increases in the U.S. have supported the Aussie.
Data released last month showed Australian unemployment fell to a 2 1/2-year low, while annual core inflation slowed to a record in the first quarter.
"There's still a risk of another 25 basis-point cut in August," said Roy Teo, a senior currency strategist at ABN Amro Bank NV in Singapore. "Inflation would continue to head lower."
Australian bonds rose, sending one-year yields to an all-time low of 1.744 percent, according to data compiled by Bloomberg.
The government sought to also deliver stimulus Tuesday, handing down an expansionary budget hours after the central bank eased policy.
Fiscal Stimulus
Treasurer Scott Morrison forecast a A$37.1 billion ($28 billion) deficit in the 12 months through June 2017, wider than he predicted six months ago. His plan for growth includes cuts to company and income taxes and a boost to infrastructure spending. That's assuming he remains in office following an expected July 2 election.
For the Aussie to depreciate further, investors will need to be convinced that the RBA will cut again as central banks worldwide have faced the limits of monetary policy in weakening a currency, according to TD Securities Inc. The euro strengthened even after the European Central Bank boosted the region's record stimulus in March, and Singapore's dollar appreciated after last month's surprise easing.
Australia's currency has climbed as much as 15 percent since dropping in January to a more than six-year low, adding the case for a central bank rate cut. Interbank cash rates futures for August were yielding 1.60 percent, indicating about a 60 percent chance that the central bank will cut rates by that month.
"For the RBA to get maximum effect of the rate cut on the Aussie, the central bank will need to lay the case for a follow-up cut over the following months," Prashant Newnaha, a rates strategist at TD Securities in Singapore, said before the RBA decision.
Before it's here, it's on the Bloomberg Terminal.
LEARN MORE