Anthony Mackie on Fishing, Drinking, and His Love of New Orleans
The Captain America star tells how to live like a local in the Big Easy.
By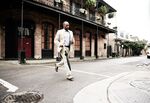 It was a bland piece of fish that sent Anthony Mackie running back to New Orleans after 11 years of living in New York City. "All the restaurants in New York were starting to serve tilapia," says the actor, who reprises his role as Falcon in Captain America: Civil War, opening Friday. "It's disgusting!" The next time he went home to visit his family, he and a friend caught and cooked some redfish. It took just one taste to remember what he'd left behind. "I called the moving company and said, 'I'm mailing you the keys. Pack up my stuff, and send it down.' "

Mackie grew up in the suburban neighborhood of Gentilly, acutely aware of the thin line between the city and the outdoors in South Louisiana. As a kid, he liked to ride his bike up to fish along Bayou St. John, which runs through New Orleans's Mid-City neighborhood, or head to City Park, a sprawling green space crisscrossed by teeming canals and waterways. "All those little lagoons are full of fish," he says over coffee at Le Richelieu, a handsome, old-school hotel in the quieter end of the French Quarter. "There are storks. There's alligators. There's snakes. It's a living, breathing ecosystem."
He now gets his angling fix out on his boat, a 25-foot pontoon outfitted with a kegerator. "You just go out 10 minutes, drop anchor, and it's like a little living room," Mackie says. If it's only an afternoon casting session, he'll go to Bayou Bienvenue, a short drive out to the wetlands on the eastern end of the city. With more time, he'll head north, toward Bayou Cocodrie, around Natchez, or down to Grand Isle, the last speck of land before the Gulf of Mexico. He's a scuba diver, too, and this summer plans to dive around the massive oil rigs that dot the Gulf Coast, attracting scores of circling sea creatures such as tarpon, manta rays, and sharks. "Sharks don't like people," he says. "To them, you're just nasty meat."

When he's back on land, Mackie can be found playing golf, a hobby he picked up from Samuel L. Jackson when the two worked together on an otherwise unmemorable film called The Man, back in 2005. (They've since worked together several more times, including on Captain America.) "If I have a spare two hours, I'll run out and play nine holes," he says. TPC Louisiana and Lakewood Golf Club are both championship private courses on the outskirts of the city, but he's just as likely to get his swings in at the standout public course at Pontchartrain Park.

Like most people who grew up in the Crescent City, Mackie has lots of eating tips, too. He'll send you for fried chicken, gumbo, and other Creole classics at Dooky Chase's; seafood at Brigtsen's up near the river bend; or drinks at Mr. B's Bistro, the dark, wood-paneled restaurant in the French Quarter—"You can tell they've been cooking the same dishes in those pots for a long time," he says. For music, he points to D.B.A. and Snug Harbor, both on bustling Frenchmen Street, but really, you can't go wrong. "The live music is just so much better here than you get anywhere else," he says. "Even walking down Bourbon Street—those little places serving daiquiris have some of the best musicians in the country."
If all of this seems to leave little room for, say, naps, that suits Mackie fine. "I don't enjoy sleep, and I don't enjoy vacation," he says. He does have a soft spot for the grand Southern tradition of porch sitting, preferably on a warm summer evening with a drink in his hand. "That's different," he says, wistfully. "That's just me and my Jack Daniel's, thinking about where it all went wrong."
Anthony Mackie's New Orleans
EAT:
Mr. B's Bistro
201 Royal St.
504 523-2078
Brigtsen's
732 Dante St.
504 861-7610
Dooky Chase's
2301 Orleans Ave.
504 821-0600
DRINK:
Cane & Table
1113 Decatur St.
504 581-1112
D.B.A.
618 Frenchmen St.
504 942-3731
Snug Harbor Jazz Bistro
626 Frenchmen St.
504 949-0696

FISH:
New Orleans City Park
1 Palm Dr.
504 482-4888
DAY TRIP:
Bayou Cocodrie
3391 Poole Rd., Vidalia, La. 
318 336-7119

GOLF:
TPC Louisiana
11001 Lapalco Blvd., Avondale, La. 
504 436-8721
Lakewood Golf Club
4801 General Degaulle Dr.
504 373-5926
Joseph Bartholomew Municipal Golf Course
Pontchartrain Park
6514 Congress Dr.
504 658-3387
Before it's here, it's on the Bloomberg Terminal.
LEARN MORE