Aberdeen Slumps Most Since 2008 on $11.2 Billion in Outflows
by
Odey hedge fund increased its short position ahead of results

Numis cuts rating, says wait for more attractive entry point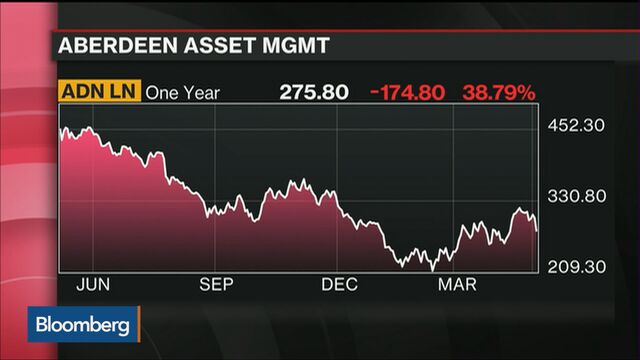 Aberdeen Asset Management Plc's shares tumbled the most since 2008 after clients of the emerging-market specialist withdrew another 7.6 billion pounds ($11.2 billion) of net money from its equities and fixed-income funds in the first three months of 2016.
Total redemptions for the six months through March was 16.7 billion pounds and compares with 11.3 billion pounds withdrawn a year earlier, Aberdeen said in a statement Tuesday. That sent underlying pretax profit down 40 percent to 162.9 million pounds and cut revenue by 20 percent. Assets under management fell 11 percent to 292.8 billion pounds.
The shares fell as much as 10.5 percent and were trading at 270.20 pence at 3:17 p.m. in London trading, making it the third worst performer in the FTSE 350 Index. Hedge fund Odey Asset Management LLP increased its short interest in Aberdeen to almost 1 percent of shares outstanding last week after the stock had rebounded by more than 40 percent from its February low. A spokeswoman for Odey declined to comment.
Aberdeen "remains very much exposed to the fortunes of emerging markets," wrote David McCann of Numis Securities Ltd. who downgraded the stock to hold. We "would now prefer to wait for a more attractive entry point. Long term, you need to believe the group can achieve growth" to justify purchasing the shares.
Aberdeen has suffered more than two years of withdrawals, including at least $13 billion in sovereign-wealth assets, as appetite soured toward emerging markets. The Scottish firm was also pushed out of the FTSE 100 Index in March after its stock was sold off during a market slump.
Chief Executive Officer Martin Gilbert said that while the board was committed to its progressive dividend policy, future payouts were dependent on market conditions. The firm's interim dividend was left unchanged at 7.5 pence per share. He also said there was no need to accelerate cost cutting beyond the 70 million pounds in annual savings already announced.
Emerging Markets
"If we cut anything more, we would be cutting service to our clients and we are not prepared to do that," Gilbert told reporters on a conference call. "We have got to balance what our clients want and what other people want. We have had a tough three years because of emerging markets and our shareholders understand that."
Gilbert has started to see a "light at the end of the tunnel" after the company saw its first quarterly inflows into emerging market equities, he said in an interview with Bloomberg Television. The new business mirrors Schroders Plc who last week reported 1.5 billion pounds of inflows into the asset class.
"We are strong financially with over 400 million pounds cash on the balance sheet," Gilbert said in the interview. "We can survive as a business very easily; we just have to wait for the emerging markets to come back in favor."
Before it's here, it's on the Bloomberg Terminal.
LEARN MORE