JPMorgan Sees Yen Climbing as U.S. Scrutiny Impedes Intervention
by and
Surge past 100 yen per dollar can't be ruled out: JPMorgan

U.S. report won't limit action, Finance Minister Aso says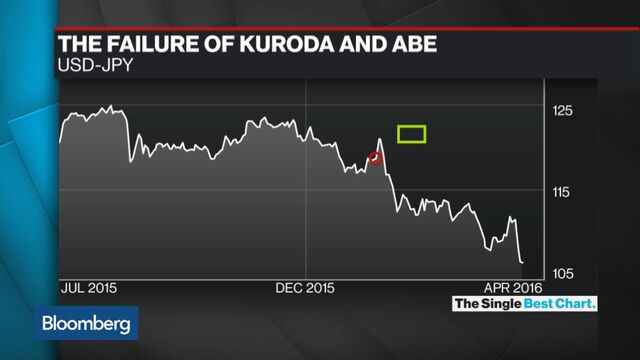 Japanese officials concerned at the yen's surge to an 18-month high now face the headache of being on a U.S. watch list for currency practices. JPMorgan Chase & Co. says the potential for U.S. opposition to exchange-rate intervention will probably help strengthen the yen more.
The dollar-yen market is orderly and it's important for countries to keep their Group-of-Seven and Group-of-20 currency commitments, the U.S. Treasury said Friday. The yen's 13 percent surge this year has prompted Japan's Finance Minister Taro Aso to say that authorities would act if moves were one-sided. Recent yen gains are "extremely concerning" and the U.S. report won't limit how Japan can respond, he said Saturday, according to a transcript obtained by Bloomberg. Germany, China, South Korea and Taiwan were also included as countries to be monitored.
"The risk of breaking 100 can't be ruled out, and in that case Japanese authorities are likely to move," said Tohru Sasaki, a former central-bank official who's now head of Japan markets research at JPMorgan. "If dollar-yen breaks 100, and even if Japanese authorities move, probably that's not enough to provide significant support" for the greenback.

The yen was little changed at 106.65 per dollar as of 6:50 a.m. in New York Monday, following last week's 5 percent advance that was the biggest since 2008. It appreciated earlier to 106.14, the strongest level since October 2014. Japan's currency weakened for the first time in three days versus the euro, sliding 0.4 percent to 122.46.
A number of markets are closed across Asia and Europe on Monday including those in China, Singapore, the U.K. and Russia. Japan's markets will be closed from Tuesday to Thursday. 
"Aso's comments make the market a bit more nervous and less brave when it comes to buying more yen but in the end, this is not something that is a clear policy and therefore doesn't have a big effect," said Ulrich Leuchtmann, head of currency strategy at Commerzbank AG in Frankfurt. "To stop this trend they would need strong Bank of Japan action. As long as we don't see that, these talks of Aso can only slow down or cause some short-term correction but not a change in the trend."
Watch List
The U.S. Treasury uses three criteria to decide if a country is being unfair, including the size of its trade and current account surpluses as well as whether it buys foreign assets equal to 2 percent of output over the year to depreciate its currency.
That means Japan could intervene in currency markets by up to 10 trillion yen ($94 billion) a year, though the sum wouldn't be enough to support the dollar-yen, JPMorgan's Sasaki wrote in a report.
"The message from the U.S. Treasury is important for Japanese currency policy," Sasaki said. "Japan can't ignore what the U.S. government says, because currency policy is bilateral."
Japan hasn't sold its currency to limit gains since 2011. The finance ministry made a record daily sale of 8.07 trillion yen on Oct. 31, 2011, when the yen climbed to a post World War II high of 75.35 against the dollar. While the currency hasn't retested that level since, it remained under 85 until it became clear in late 2012 that Shinzo Abe would win office as prime minister and carry out a massive program of monetary and fiscal stimulus.
"The risk is high for markets to test beyond 105 yen this week," said Masafumi Yamamoto, chief currency strategist in Tokyo at Mizuho Securities Co. "It will be important whether Japan will act or not, whether it can act or not. Verbal intervention is only effective when it's accompanied by the possibility of physical intervention."
Before it's here, it's on the Bloomberg Terminal.
LEARN MORE