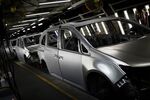 On Tuesday, investors will be watching auto makers' monthly sales reports a little more closely than usual.
Following a shock plunge in U.S. auto sales in March, forecasters expect to see a big snap-back in April. After all, the magnitude of the drop doesn't seem to be justified by the fundamentals, they say, and some argue that rogue seasonal adjustments and the timing of Easter this year may have played a role in the disappointing results.

Still, the data come on the heels of a broader deterioration in consumer spending so far in 2016. Personal consumption expenditures grew at a 1.9 percent annualized rate in the first quarter, marking a slowdown from the 2.4 percent pace in the fourth quarter of last year.
Tuesday's reports, which will give investors the first look at hard data on consumer spending trends in April, will therefore be watched closely by Federal Reserve officials struggling to figure out when they will next raise rates.
The median estimate of 50 forecasters in a Bloomberg poll calls for a rebound to 17.4 million vehicles sold at an annualized pace in April following the drop in March to 16.5 million. Sales averaged 17.4 million in the year through March, according to data from Ward's Automotive Group. 
Last week, following their most recent meeting, Fed policy makers put it like this in a statement: "Growth in household spending has moderated, although households' real income has risen at a solid rate and consumer sentiment remains high."
In other words, while consumer spending seems to be slowing, officials view the fundamentals as supportive enough to justify their forecasts of above-trend economic growth this year. If auto sales continue to miss the mark, Fed officials may be forced to reconsider their views.