Venezuela's Lawmakers Gather 2 Million Signatures to Oust Maduro
by and
Oppostion surpasses signatures needed to start recall process

Electoral authorities must now verify signature count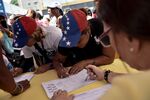 Venezuela's opposition said it had cleared the first hurdle in a drive to remove President Nicolas Maduro from the presidency as the country's economic woes deepen.
Almost 2 million people signed a petition calling for a recall process to start, far outstripping the 200,000 required by law, opposition coalition chief Jesus Torrealba wrote on his Twitter account. It is not clear when the National Electoral Council, CNE, will begin to verify the forms. Once validated, the opposition must then collect nearly 4 million signatures, or 20 percent of registered voters, to force a referendum vote.
Widespread discontent over triple-digit inflation and severe shortages of staple goods propelled Venezuela's opposition alliance to a landslide victory in congressional elections late last year. Still, since taking control of congress in January, the opposition has met with resistance from the Supreme Court. Stacked with government allies, the court has struck down the opposition's central initiatives and narrowed its majority in the national assembly.
Many observers expect the authorities to delay a recall vote as long as possible. If a referendum does not take place before the end of this year, the constitution states the vice president would take over, rather than hold fresh elections.
"The long and complicated recall process means that at the earliest, the recall vote would occur in December," Eurasia Group analysts Risa Grais-Targow and Agata Ciesielska wrote in a note to clients Monday. "However, the CNE will use delay tactics and create additional stumbling blocks to keep the vote from taking place."
Maduro designated a special commission last week led by Caracas municipal mayor Jorge Rodriguez to audit signatures and review the referendum process. Speaking today at the CNE, Rodriguez said that despite the signatures, the process to unseat Maduro had not yet begun.
"Nothing has been activated," Rodriguez said.
Before it's here, it's on the Bloomberg Terminal.
LEARN MORE