Spanish Politics Enters Uncharted Waters as Election Looms
By and
First phase of Spain's second political transition nearly over

Parties sharpen their attacks as they brace for new campaign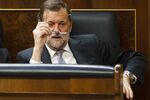 The first phase of Spain's second political transition draws to a close on Monday with four different parties sharpening their attacks for a renewed assault on government.
The deadline for patching together a majority from the most fragmented parliament in Spanish history falls at midnight on May 2, triggering a repeat election for late June. Opinion polls published over the weekend showed the incumbent People's Party consolidating its lead, but without an overall majority, and the anti-austerity platform Podemos rallying its support.
After leading Spain out of its five-year economic slump and weathering a storm of corruption allegations, Mariano Rajoy's first term as prime minister ended in electoral deadlock in December with four competing visions of the country's future and no possible compromise. The next phase will be a test of each party leaders' ability to sustain the belief of their supporters through uncharted territory with a new generation clamoring for power and the old one fearful of the changes being thrust upon them.
"The last four months were necessary -- they've given us a snapshot of the transition that's happening in Spain," said Antonio Barroso, a political analyst at Teneo Intelligence in London. "But I always said the next election was more important."
An opinion poll in El Pais newspaper Sunday showed support for Rajoy's PP at 29 percent from 28.7 percent in December. In an interview Sunday with La Razon newspaper, Rajoy said his party was the most "useful" for Spain and that the new elections were a "lesser evil" than a government including anti-austerity parties that may seek to undo his reforms.
Doomed effort
Support for the Socialists, whose leader Pedro Sanchez led a doomed effort to form a government by reaching out to parties including Podemos and pro-market Ciudadanos, fell to 20.3 percent from 22 percent in December, according to the El Pais poll.
Spain's first political transition came in the 1970s after the death of General Francisco Franco when King Juan Carlos led the country from dictatorship to democracy, and then into NATO and the European Union. Now a new group is trying to find a way to eliminate the perceived corruption of an entrenched elite and unleash the potential of a disaffected generation.
Even so, it's not clear whether new elections will break the deadlock. A poll in ABC newspaper Sunday showed that the most obvious route to stable government would still be a pact between the PP and the Socialists, an outcome that Sanchez has said is impossible. Sanchez told party officials at an April 30 meeting that he would still rule out any pact with the PP if new elections again fail to produce a clear winner, El Pais reported Monday.
One risk for politicians is that the failure so far to find a path to government will test the patience of voters who'll be called on to vote twice in six months. Estrella Morente, a flamenco singer, used her performance at an event Monday to mark Madrid's regional holiday to vent her anger at the impasse.
"We're fed up that there's no dialogue in Spain," she sang as Rajoy and other political leaders looked on. "Forgive me but this is my opportunity."
Recovery intact
So far, the inability to form a government hasn't hurt Spain's economic recovery. Gross domestic product grew 0.8 percent in the first quarter, the Madrid-based National Statistics Institute said Friday in a preliminary release. That exceeded the Bank of Spain's estimate of a 0.7 percent expansion. Retail sales beat estimates in March and mortgage lending rose the most in seven months in February.

A sub-plot for the June elections could be Podemos's attempt to overtake the Socialists as the second political force in Spain by exploring an alliance with the former Communists of the United Left.
Podemos and United Left were forecast in the ABC poll by GAD3 to jointly win 68 seats in Spain's 350-seat legislature, still some distance from the 94 for the Socialists. If the two parties don't join forces, the PP and Ciudadanos might be within reach of forming a government if they allied with regional groups in the Basque Country and the Canary Islands, according to ABC.
"It's difficult to say how long the transition will take," Barroso said. "But I don't see any way back to the old two-party system."