Saudi Binladin Says It Paid Dismissed Workers Amid Protest
by and
Group says affected jobs related to contracted projects

Company issued exit visas for 77,000 foreign workers: Al Watan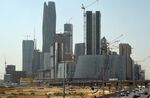 The Saudi Binladin Group has fully compensated its dismissed workers, the company said, responding to local media reports that it fired thousands without pay. It described the job cuts as a routine measure amid a slowdown in the construction industry.
"Adjusting the size of our manpower is a normal routine, especially whenever projects are completed or near completion," the largest construction company in Saudi Arabia said in an e-mailed response to questions on Monday. "Most of the released jobs had initially been recruited for contracted projects with specific time frame and deliverables."
The comments were the company's first response following weeks of protests in which workers set fire to company buses in Mecca. The Saudi government started delaying payments to contractors last year to prevent the budget deficit from exceeding $100 billion after the slump in oil prices. Deputy Crown Prince Mohammed bin Salman told Bloomberg News in an interview in March that authorities have started paying companies back.
"Lingering cash flow issues at the country's biggest construction firm will undoubtedly impact the banking sector if the company doesn't get any new state contracts," said Talha Nazar, head of research at Aljazira Capital Co.
Saudis, Foreigners
The Binladin Group has terminated the jobs of 77,000 expatriate workers and issued final exit visas for them to leave the country, Al-Watan newspaper reported on Monday, citing a company official it didn't identify. It also plans to fire 12,000 of its 17,000 Saudi employees, the newspaper said.
Workers are refusing to leave the country without receiving their overdue salaries, Arab News reported, citing civil defense spokesman Major Nayef al-Sharif.
The company, which didn't disclose the number and nationalities of affected workers, said it will honor its commitments "in case further manpower is released."
Saudi Arabia's economic growth is slowing as revenue from oil exports decline. Gross domestic product will likely expand 1.5 percent this year, the slowest pace since the global financial crisis, according to a Bloomberg survey of economists.
Binladin has been barred from taking on new projects in the kingdom pending an investigation after a crane operated by the group collapsed at the Grand Mosque in Mecca. The incident in September killed more than than 100 people.
Saudi Binladin stopped work on one of its biggest projects, the King Abdullah Financial District in the capital, Riyadh, after what it described as delayed payments. The project's owner threatened to cancel the company's contracts and award the work to other builders within weeks if Binladin doesn't return to the site. The district's chief executive officer and project manager Waleed Aleisa said the owners have made payments in accordance with completed work.
Saudi Binladin "may not get the preferential treatment it had in the past and may have to be limited to contracts from private sector in the future," Nazar said.
Before it's here, it's on the Bloomberg Terminal.
LEARN MORE