Rousseff Mulls New Brazil Election to Put Pressure on VP Temer
by
Proposal faces long odds of winning congressional approval

Majority of Brazilians prefer new elections over impeachment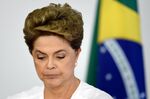 Brazil's embattled President Dilma Rousseff may back calls for new presidential elections as she sees little chance of surviving a key impeachment vote in the Senate next week, according to three government officials who were briefed on the discussions.
A group of senators, including members of the ruling Workers' Party, submitted a bill last month that would amend the country's 1988 constitution that says Brazil can only hold presidential elections every four years. Their legislation would allow Brazilians to vote for a new leader this year rather than 2018 as currently established by law.
QuickTake Brazil's Highs and Lows
Senate President Renan Calheiros said last week it's very unlikely that supporters of the measure could get the three-fifths majority required in both chambers of Congress to change the constitution and make way for elections in 2016. Leaders of the two main opposition parties, the Brazilian Social Democracy Party and the Democrats, have also spoken out against the proposal.
Yet a majority of Brazilians in a public opinion poll conducted by Ibope last month said new elections rather than impeachment are the best way to end the political crisis that has contributed to the worst recession in decades. Rousseff's support for the proposal would put pressure on Vice President Michel Temer, who has said new elections are unconstitutional.

The proposal is "an attempt to embarrass and de-legitimize Temer," said Andre Cesar, founder of consulting company Hold Assessoria Legislativa in Brasilia who has followed Brazil's Congress for 20 years. "It has absolutely no chance of succeeding."
Impeachment Vote
Rousseff has accused Temer of treason by backing efforts to oust her and in recent days has taken measures to hamstring his capacity to shore up fiscal accounts should he take the top job. She unveiled plans on Sunday to increase welfare expenditures that would make it increasingly difficult for him to redirect discretionary spending and narrow the widest budget deficit on record.
The announcement may be one of Rousseff's last as president, as Senators are scheduled to vote next week whether to put her on trial for allegedly doctoring fiscal accounts to mask the size of the budget deficit. If a simple majority of the legislators vote against the president -- as is widely expected -- she must temporarily step down for as long as 180 days and stand trial in the Senate. The chamber then would need support from two-thirds of its 81 members to impeach Rousseff and terminate her mandate.
The president has pledged repeatedly to fight against her impeachment, which she says is an affront to the 54 million Brazilians who voted for her. She has so far resisted pressure to call for new elections because she doesn't want to undermine her argument that voters gave her a mandate to govern until 2018, according to two of the government officials. They asked not to be identified because discussions were private. The presidential press office didn't respond to requests for comment.
Amending the constitution isn't the only option. Brazil would have to hold new presidential elections if both Rousseff and Temer step down. The vice president's aides have said he won't resign. Some Rousseff advisers have also recommended holding a plebiscite to allow the population to decide whether there should be new elections.
Neither option seems likely.
Proposing new elections is "a last-minute attempt to win over public opinion," analysts Joao Augusto de Castro Neves, Christopher Garman and Cameron Combs at political consulting firm Eurasia Group wrote in a report on Monday. The idea is "unlikely to prosper given a number of political, legal, and logistical hurdles."
Before it's here, it's on the Bloomberg Terminal.
LEARN MORE