Redstone, 92, Ordered to Testify for Mental Capacity Trial
by
Videotaped testimony won't be seen by public, judge says

Trial set for Friday to determine Redstone's mental competency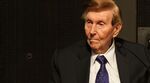 Sumner Redstone must testify through a deposition for a trial over whether the 92-year-old media billionaire was mentally incompetent last year when he replaced a former girlfriend and confidante as his health-care agent and evicted her from his mansion.
A state probate judge in Los Angeles ordered the controlling shareholder of Viacom Inc. and CBS Corp. to answer questions in videotaped testimony to be shown at the trial set to begin Friday. The judge said the courtroom would be closed to the public when the videotape is shown, though a transcript of the deposition will be made public.
"I'd like to hear his feelings," Judge David Cowan told Redstone's lawyers Monday in court. "He could be your best witness."
Cowan, who gave each side no more than 15 minutes to question Redstone, added, "Whatever he says is strong evidence of capacity."
Investors are watching the case closely to see how it might affect Viacom and CBS, two of the biggest U.S. media companies. If the judge finds Redstone was incompetent last year when he dropped Manuela Herzer as his health-care agent, that could set in motion a chain of events that prompts previously designated trustees to take control of his voting stakes in CBS and Viacom.
Physically Frail
Herzer claims Redstone is mentally as well as physically frail and has been manipulated by those around him, including his daughter Shari and Viacom Chief Executive Officer Philippe Dauman.
The judge said in his decision that how Redstone comes across in his testimony matters more to him than the findings of two geriatric psychiatrists who examined the billionaire and provided opposing conclusions. He gave Redstone's lawyers permission to end the deposition unilaterally if it there appears to be a risk to his health.
"We appreciate the court's continued protection of Mr. Redstone's privacy and dignity," Gabrielle Vidal, a lawyer for Redstone, said in a statement after the hearing.
Pierce O'Donnell, a lawyer for Herzer, said he's pleased the court will consider testimony that is "highly relevant" to making the case that Redstone was incompetent and was improperly influenced by people around him.
"Judge Cowan made a Solomonic judgment assuring that he is able to hear from Redstone while at the same time respecting his dignity, privacy, and health," O'Donnell said.
Herzer filed a petition in November to have a probate judge declare Redstone incompetent and have her reinstated as his health-care proxy. Redstone's lawyers have alleged she's more concerned about his money than his health because he cut her out of his will at the same time he removed her as his agent for when he can't make his own health-care decisions.
Split Trial
The judge will consider at a Thursday pretrial hearing a request by Herzer to split the trial into two parts. The first issue to be decided in her proposal is whether medical evidence shows Redstone lacked mental capacity in October.
Herzer says if the judge agrees with her on that point, that should end the trial so that it doesn't "devolve in an undignified proceeding in which potentially embarrassing facts about Mr. Redstone are revealed."
Only if Herzer loses on the competency issue would she have the trial go to a second phase focused on whether there was undue pressure on Redstone to evict her from his home.
To decide whether Redstone was tricked into getting rid of Herzer, the judge would have to consider a host of "thorny" issues, including whether Redstone nurses manipulated his obsession with another woman and "plots and schemes" inside the Redstone home to remove Herzer, according to the request.
The case is In re Advance Health Care Directive of Sumner M. Redstone, BP168725, Los Angeles County Superior Court.
Before it's here, it's on the Bloomberg Terminal.
LEARN MORE