Manufacturing's Silver Lining: More U.S. Industries Improving
by
Gains in orders, production broadening out to most areas

Level of bookings indicates output can keep expanding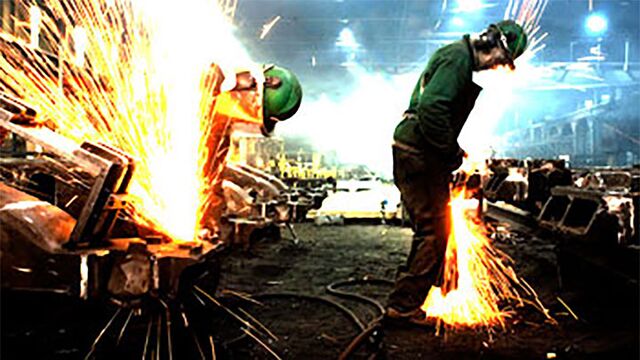 There is one positive aspect of U.S. manufacturing's recent performance. While uninspiring, the rate of growth is broadening to include almost all types of producers. 
The numbers of industries reporting gains in orders and production have more than doubled since the start of the year to include almost all areas, according to results of a survey by the Institute for Supply Management issued Monday. The Tempe, Arizona-based purchasers group's factory index showed growth generally cooled in April from the prior month.
Fifteen of 18 manufacturing sectors reported orders growth last month, the most since February 2013 and an indication that the beleaguered industry is on a sustainable path toward recovery. A three-month slide in the dollar along with a rebound in oil and other commodities prices are welcome news for American factories still waiting for global markets to firm up.

"It's good momentum for the sector, which is a positive as we head into the second quarter," said Russell Price, senior economist at Ameriprise Financial Inc. in Detroit, who correctly projected the ISM reading. "We've reduced some of the inventories that have been plaguing the sector. We still need a bit of inventory trimming in the months ahead, but that's a positive for manufacturing growth going forward."
The ISM's factory index declined by 1 point to 50.8, barely above the 50 level that indicates stagnation. While that was weaker than the 51.4 median forecast in a Bloomberg survey, the report's details were better.
New Orders
The group's gauge of new bookings expanded slightly less in April than a month earlier, and an index of backlogs managed to grow for a second straight month for the first time since the end of 2014. Makers of apparel, paper, wood products, plastics and metals said new orders grew.
A measure of production also cooled but 15 industries said it's still expanding, the most since September 2014.
Another piece of good news is that factory customers are making progress reducing the number of unsold goods and materials. The supply managers group's index of customer stockpiles showed inventories were being reduced at the fastest pace since July of last year.

In a sign that demand may be starting to recover among overseas customers, the ISM's index of export orders crept up to the highest level since November 2014. Manufacturing in China, the world's second-biggest economy, was the strongest since June, according to the Chinese government's Purchasing Managers' Index.
The decline in the value of the dollar will help American producers from a demand perspective. Since the end of January, the Bloomberg Dollar Spot Index has dropped more than 7 percent.
A separate report from the Commerce Department showed construction spending rose 0.3 percent in March after a 1 percent gain that was previously estimated as a decline. January outlays were revised to a 0.3 percent decrease. Economists at JPMorgan Chase & Co. revised up their first-quarter tracking estimate for gross domestic product to an annualized rate of 0.7 percent from 0.6 percent.
Before it's here, it's on the Bloomberg Terminal.
LEARN MORE