Japanese Stocks Tumble as Exporters Retreat Amid Stronger Yen
By and
U.S. puts Japan on currency watch list; intervention in doubt

Apple suppliers sink amid poor forecasts, sliding expectations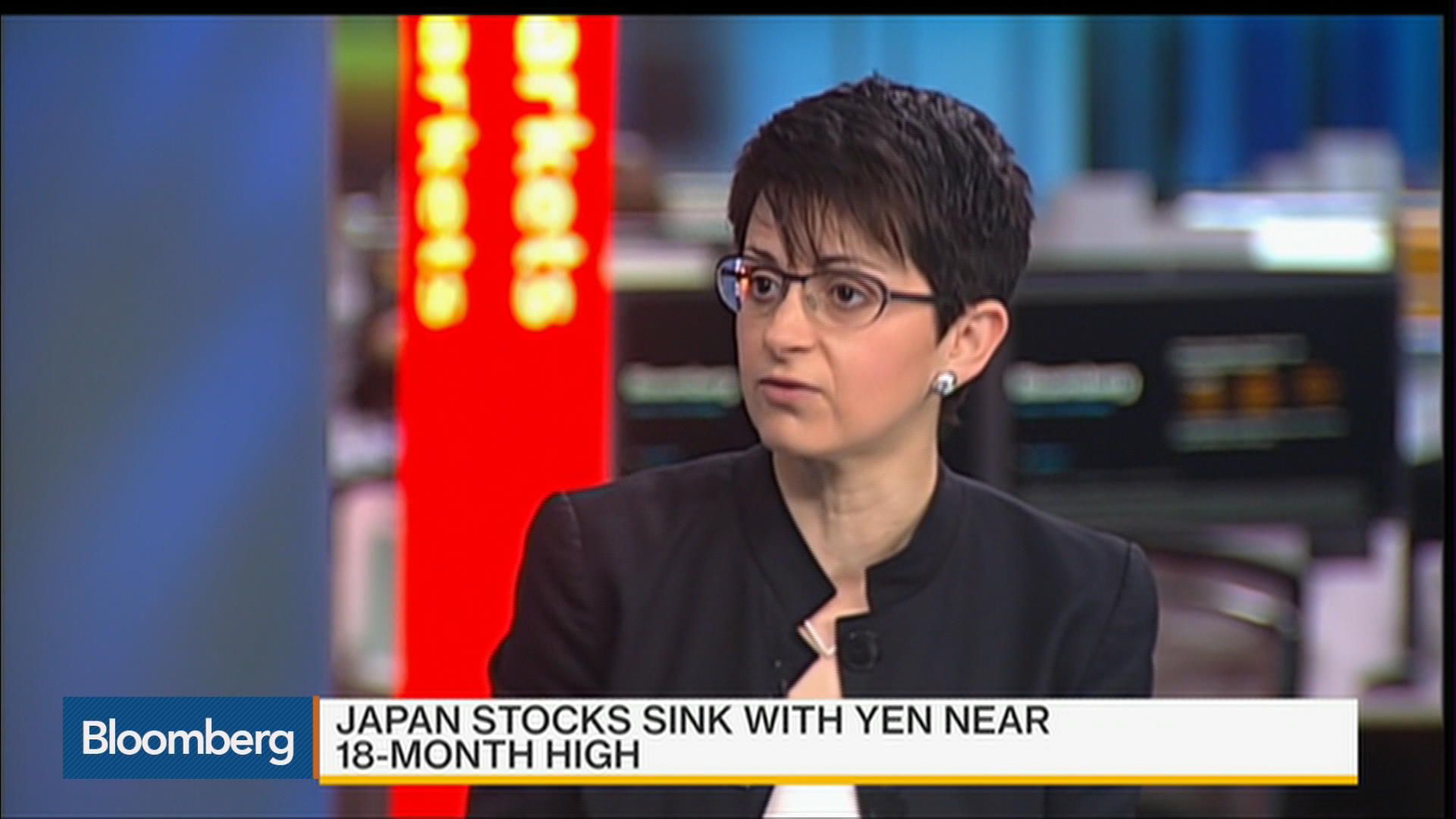 Japanese stocks tumbled as a reluctance for additional easing from the Bank of Japan sent the yen to the highest level in more than 18 months, pummeling companies that rely on overseas markets for sales. 
The Topix index sank 3 percent to 1,299.96 at the close in Tokyo, adding to last week's 4.8 percent decline. The Nikkei 225 Stock Average slid 3.1 percent to 16,147.38 as volatility on the gauge surged close to a two-month high. Stock markets were closed Friday for a holiday and will shut again for three days from Tuesday. Volume on the Topix was 15 percent above the 30-day average on Monday. The yen traded at 106.55 per dollar, near the strongest level since October 2014, after the BOJ on Thursday refrained from boosting monetary stimulus.
"To sum it up in a single phrase, there was a gap in the communication between the BOJ and the market," said Yoshinori Ogawa, a market strategist at Okasan Securities Co. in Tokyo. "There are concerns the yen may strengthen beyond 105 per dollar. As we are in the middle of long holidays, liquidity is thin, which makes it easier for speculators to whip markets around with their selling."

BOJ Governor Haruhiko Kuroda opted to take more time to assess the impact of negative interest rates, surprising a slight majority of economists surveyed by Bloomberg who expected a response to a strengthening yen that has cast a shadow over prospects for higher wages and investment.
Japan's currency market remained open on Friday. The yen's 4.7 percent surge against the greenback in the two days since Kuroda's surprise was its biggest jump since the depths of the global financial crisis in October 2008. The Topix is down 6.1 percent over the past two sessions, the biggest decline since Feb. 12.
The equities index has lost 16 percent this year, making Japan the worst performing developed market in 2016. Stocks started the year tumbling into a bear market on worries over oil prices and slowing global economic growth.
The BOJ surprised markets in January by introducing a negative rate of minus 0.1 percent on a portion of lenders' reserves held at the central bank. Its decision to forgo additional easing this time hasn't deterred some from expecting more stimulus in the future.
"The BOJ will see market reaction to their inaction and the next time around they will do whatever they need to do to appease the markets," said Matthew Tuttle, chief executive officer of Tuttle Wealth Management in Stamford, Connecticut. "We would see this weakness as a buying opportunity."
Watch List
Japan was placed on a newly compiled list of countries the U.S. says it is monitoring for unfair interference in currency markets. Japanese Finance Minister Taro Aso brushed off the new measure, saying in a Nikkei interview it in no way constrains Japan's ability to respond should any action be needed and that the yen's one-sided speculative movements in the dollar-yen rate are "extremely concerning."
"The hurdle for intervention has gotten higher," said Tetsuo Seshimo, a portfolio manager at Saison Asset Management Co. in Tokyo. "The U.S. report shows they're quite worried about a stronger dollar. In this kind of situation, it's unthinkable the U.S. would cooperate with Japan to intervene" to weaken the yen.
Exporters sank on the yen's strength. Honda Motor Co., which relies on North America for 44 percent of sales, lost 4 percent while industrial machinery maker Komatsu Ltd. slid 3.9 percent.
Apple Suppliers
Futures on the S&P 500 rose less than 0.1 percent after the underlying gauge fell 0.5 percent on Friday. Apple Inc. slumped for a seventh session a day after Carl Icahn said he cashed out his stake in the company.
Apple suppliers Murata Manufacturing Co. and TDK Corp. plunged after announcing earnings forecasts that missed analyst estimates. Murata sank 13 percent, while TDK dropped 9 percent. Other suppliers that did not report earnings also sank, including Alps Electric Co., which dropped 9.3 percent, while Sony Corp. -- which provides parts for smartphone cameras -- lost 4 percent.
"Smartphone-related businesses had been a boost for the Japanese economy the last few years, but if that slows down we'll lose a level of support," said Seshimo.
Takata Corp. plunged 9.3 percent after the Nikkei reported over the weekend that the U.S. will expand recalls of the company's faulty airbags.
NTT Docomo Inc. was one of the few positive standouts, surging 4.9 percent after forecasting the highest profit in a dozen years as it plans to add subscribers. The stock was the biggest boost to the Topix.