Islands Draw Record Backing to Protect Sharks From Fin Trade
by
More than 50 nations co-sponsoring conservation measures

Protective listings proposed for 13 species of sharks and rays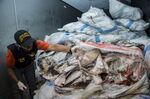 A global campaign to protect sharks and rays from the fin trade is gaining record backing, vindicating initial efforts by island nations such as the Maldives that benefit from ecotourism.
Proposals to add 13 species of sharks and rays to a list of conserved creatures will be submitted to a September meeting in South Africa by the Convention on International Trade in Endangered Species of Wild Fauna and Flora, an agreement by 182 member countries. If adopted, this would double the proportion of the shark-fin trade CITES regulates to 20 percent, according to the Pew Charitable Trusts.
"This is probably the most important thing that could happen for sharks and rays this year," Luke Warwick, director of the Pew Charitable Trusts' shark-conservation campaign, said by phone from Washington. The market for shark fins and other products is depleting populations of the fish, with an estimated 100 million killed annually, according to a 2013 study published in Marine Policy, a journal of ocean-policy studies.
The response of countries has grown since the first species of the fish, including hammerhead varieties and the porbeagle, were protected from illegal trade in 2013, according to Warwick.
'Unprecedented Sweep'
"Over the last three years, there's been an unprecedented sweep of implementation and enforcement action by governments around the world," he said. More than a metric ton of illegally traded shark fin was confiscated last year in Hong Kong, a transit point for about half of shark-derived products, according to Warwick.
Conservationists trace DNA to identify shark species, with those listed on the CITES appendix required to be harvested in a sustainable and legal manner. The more than 50 nations co-sponsoring the proposals for September represent the largest support for an initiative in CITES' history, according to Warwick.
Fiji has submitted a list of nine species of mobula rays, also known as devil fish, in an appendix that would regulate sustainable international trade by limiting exports. Sri Lanka has proposed adding thresher sharks, which have a long tail to stun prey, and the Maldives is suggesting silky sharks be listed.
Silky and thresher shark populations have declined more than 70 percent in recent decades due to international demand for fins and gills, according to Pew. The number of mobula rays has dropped at a similar rate, it said.
Conserving Sharks
"When tourism started in the 1970s, then diving became a much bigger activity and we have been trying to conserve sharks," Abdulla Naseer, a senior policy executive for the Maldives Environment Ministry, said in a phone interview.
He also pointed to the possible effect of shark-fishing on the Indian Ocean nation's tuna supply. "Fisherman here have the strong belief that if the silky shark or other sharks are removed from the tuna schools, the schools will disperse," Naseer said.
The deadline for nations to co-sponsor the proposals was April 27. The CITES summit will start Sept. 24 in Johannesburg and presents "another clear opportunity to really protect those sharks that are most vulnerable," Warwick said.
The non-profit organization has seen 12 shark sanctuaries established, which provide protection for the fish in a country's exclusive economic zone, which extends up to 200 miles from shore.
A quarter of the world's sharks and rays are probably threatened with extinction, according to a 2014 study by the International Union for Conservation of Nature. Over-fishing is the main threat, with many caught unintentionally, while killing of the creatures due to their perceived danger and the global market for shark fins used in soup are other factors, it said.
Before it's here, it's on the Bloomberg Terminal.
LEARN MORE