Stocks Slide Around the World as Growth Woes Bolster Treasuries
by and
Commodities retreat as Chinese, U.K. factory disappoints

Australia's dollar sinks after surprise interest-rate cut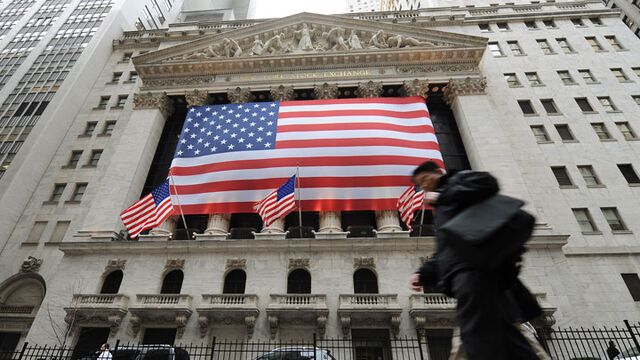 Global equities fell the most in a month and crude oil declined, while Treasuries surged with the dollar as evidence of limp economic growth around the world sparked a retreat from riskier assets.
The Standard & Poor's 500 Index dropped to a three-week low with energy shares plunging as U.S. oil fell below $44 a barrel. Financial stocks slipped after UBS AG's earnings missed estimates, sending Europe's main equity index down for a third day. Emerging-market shares sank the most since Feb. 11, while yields on 10-year Treasury notes slid to a two-week low. The dollar bounced from a one-year nadir, and Australia's currency tumbled after the central bank unexpectedly cut interest rates.

While monetary easing in the Asia-Pacific region and Europe has helped equities and commodities recover from multi-year lows since February, economic data remain subdued, as highlighted Tuesday by reports on manufacturing in China and the U.K. Citigroup Inc.'s Economic Surprise Index for the U.S., which measures the strength of data relative to analysts' forecasts, has fallen to its lowest level since February. Corporate earnings are adding to the gloom, with analysts predicting an 8 percent decline in profits for companies in the S&P 500 Index.
"The continued narrative is that the global economy is not very strong, even if the U.S. is the best of the bunch," said Joe Bell, a Cincinnati-based senior equity analyst at Schaeffer's Investment Research Inc. "We've had such a strong run-up over the last few months that we're in a bit of a consolidation phase here."
Stocks
The S&P 500 dropped 0.9 percent to 2,063.37 as of 4 p.m. in New York, erasing Monday's 0.8 percent advance, which was the steepest in more than two weeks. The index's recent rally has faltered as company results fail to convinced investors that profits will rebound from what's shaping up to be a fourth straight quarterly earnings decline. 
"Things had calmed down for the U.S. in March and April and now we're in a mode where the market can't make up its mind and is slipping back and forth," said Peter Jankovskis, who helps oversee $1.9 billion as co-chief investment officer of Lisle, Illinois-based OakBrook Investments. "Between the UBS numbers taking finance out with it, you have energy stepping back and, ironically yesterday the dollar weakening was viewed as a positive, today it's a negative in terms of risk moves."
On Tuesday, American International Group Inc. fell after the insurer posted a third straight unprofitable quarter, while Pfizer Inc. climbed 2.7 percent as the drugmaker's profit exceeded predictions and the company raised its outlook.
Apple Inc. snapped losses following its longest slide since 2004, while Microsoft Corp. and Alphabet Inc. have stumbled since forecasting sales below analyst estimates.
"There's spillover from overseas hurting the market today," said Stephen Carl, principal and head equity trader at Williams Capital Group LP. "There are worries about China, as well as Europe cutting their GDP and inflation forecasts. These are the types of factors that linger in the background until a new headline comes out, then the market takes a hit."
The MSCI Emerging Market Index plunged 1.7 percent, the most since Feb. 11, with losses led by Chinese shares traded in Hong Kong as trading resumed after a holiday. Manufacturing in the world's second-biggest economy showed signs of weakening, according to a private measure out Tuesday, weighing on growth prospects in developing nations.
Currencies
The dollar rebounded from a one-year low versus major peers as Federal Reserve Bank of Atlanta President Dennis Lockhart said a rate increase in June was "a real option" for the U.S., helping stall the greenback's three-day slide.
The euro dropped 0.3 percent following a six-day climb against the dollar, while the yen slipped 0.2 percent to 106.60 per dollar with markets in Japan closed until Friday for holidays.
The Aussie slid 2.4 percent to 74.85 U.S. cents, its steepest one-day slump since November 2011. The Reserve Bank of Australia lowered the country's official cash rate by 25 basis points, or 0.25 percentage point, to 1.75 percent. Australia potentially benefits from a weaker currency as it seeks to kick-start a revival in industries outside mining.
South Africa's rand weakened by the most in nine weeks and Brazil's real declined a second day as the central bank intervened to weaken the currency.
Bonds
Treasuries surged, with 10-year yields falling eight basis points, the most since March, to 1.80 percent. Investors are gaining confidence as data from China to Europe point to a global economy that's still very much in need of central-bank support, both in terms of bond-buying programs and lower interest rates.
Treasuries have returned 2.8 percent this year, according to Bloomberg U.S. Treasury Bond Index data, as slowing global growth prompts investors to scale back wagers on the path of U.S. rate increases.
Commodities
Oil dropped below $44 a barrel before weekly U.S. government data forecast to show rising stockpiles kept crude supplies at the highest level in more than eight decades. West Texas Intermediate crude lost 2.5 percent to settle at $43.65 a barrel.
Copper for delivery in three months slipped 2.6 percent to settle at $4,920 a metric ton in London. Prices retreated after closing on April 29 at $5,050, the highest level since March 22. Most base metals retreated on the London Metal Exchange as the bourse reopened following the May Day holiday Monday.
Gold for June delivery fell 0.3 percent to settle at $1,291.80 an ounce, erasing early gains after pushing above $1,300 an ounce. The drop ended the longest climb for gold futures in more than a year.
Before it's here, it's on the Bloomberg Terminal.
LEARN MORE