Ibovespa Falls Third Day as Petrobras Follows Decline in Crude
by
State-run oil producer slumps after three weeks of gains

Lenders Bradesco, Itau contribute most to gauge's drop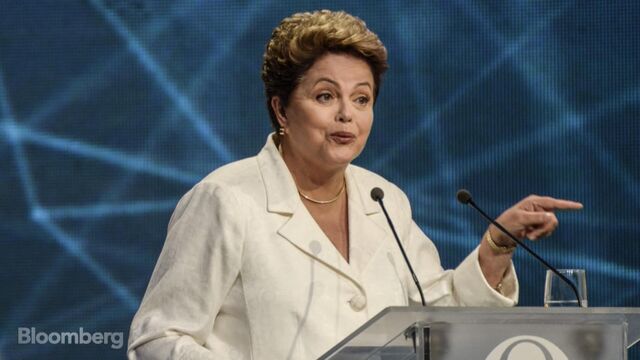 The Ibovespa fell for the third consecutive day as state-controlled Petroleo Brasileiro Brasileiro SA followed a decline in crude prices.
Lenders Itau Unibanco Holding SA and Banco Bradesco SA contributed most to the gauge's drop as economists covering Brazil forecast a worse contraction for Brazil's economy this year. Petrobras, as Petroleo Brasileiro is known, slumped as oil retreated on record Iraqi exports. The producer accounts for about 12 percent of the Ibovespa's index.
"The company's business plan has been very affected by the downward trend in crude," said Raphael Figueredo, an analyst at brokerage Clear Corretora in Sao Paulo. "Petrobras is important for the Ibovespa, so it has been determining the gauge's direction in the past weeks."

The Ibovespa fell 0.6 percent to 53,561.54 Monday in Sao Paulo as 39 of its 61 stocks declined. Petrobras lost 0.6 percent as West Texas Intermediate for June delivery fell $1.03 to $44.89 a barrel on the New York Mercantile Exchange. Itau retreated 2.8 percent and Bradesco, 2 percent.
Even with Monday's decline, stocks are close to the most expensive level in one year. The Ibovespa is trading at 13.6 times estimated earnings, according to data compiled by Bloomberg.
The Ibovespa has gained 24 percent this year on speculation that President Dilma Rousseff will be impeached, paving the way for a new government that could win backing for measures to pull the country from its worst recession in a century. Brazil's gross domestic product will shrink 3.89 percent in 2016, according to a central bank weekly survey, which in the previous reading mentioned an estimate of a contraction of 3.88 percent.
Franklin Templeton said it is increasing its investments in Brazil, betting the expected ouster of Rousseff this month will boost the country's assets. The impact of Rousseff's potential removal isn't yet fully priced into Brazilian stocks, Mark Mobius, executive chairman of the fund manager's emerging-markets group, said in a television interview with Bloomberg Markets Middle East. The real is his favorite currency in developing nations, he said.
Before it's here, it's on the Bloomberg Terminal.
LEARN MORE