Halliburton CEO Was `Absolutely Confident' in Failed Baker Deal
by
Dave Lesar forced to pay up on $3.5 billion deal promise

Lesar pushed hard for merger, threatening hostile takeover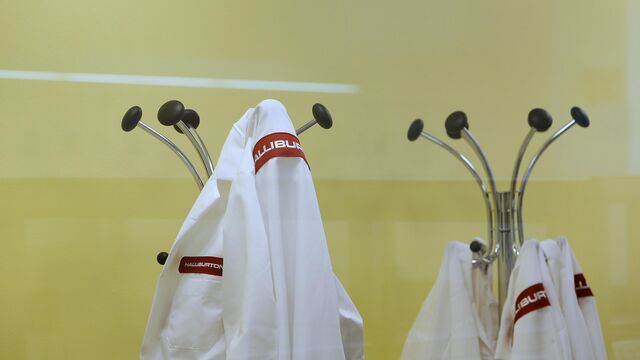 Halliburton Co. Chief Executive Officer Dave Lesar wanted Baker Hughes Inc. bad.
Months after oil prices began to crash in 2014, Halliburton's 62-year-old leader saw the $35 billion takeover of its rival as the best path to survival. The largest deal in his company's history meant so much to him that he threatened to go hostile after Baker Hughes balked at the price and said the transaction wouldn't survive antitrust review. Lesar was so "absolutely confident" he could complete the deal, he offered to pay a 10 percent fee if it wasn't consummated.
With the deal now scrapped because of government objections, that confidence means that Halliburton will pay a $3.5 billion termination charge, the second largest in history after AT&T Inc.'s payment to Deutsche Telekom AG in 2011. Despite Lesar's driving ambition to expand, investors cheered the end of the transaction, sending the stock up the most in a month at one point Monday, and analysts said Halliburton may be fine on its own.

"Halliburton Co.'s outlook is promising, even after its bid for Baker Hughes failed," Andrew Cosgrove, an analyst for Bloomberg Intelligence, said in a note. "The company remains among the most exposed to a potential recovery in North American drilling and well completions."
Baker Hughes will hold a webcast Tuesday morning to discuss the failed deal and update business plans. Halliburton, which is scheduled to release its full first-quarter results earlier that morning, has its own call planned for 9 a.m. New York time. Halliburton declined to make Lesar available for this story.
Lesar's aggressive negotiating almost killed the talks early on, according to letters released by Baker Hughes before the deal was finalized. Martin Craighead, the CEO of Baker Hughes, repeatedly questioned the feasibility of combining the second- and third-largest oilfield services companies. Lesar responded to what he called "intransigence" from Baker Hughes by threatening to pack the target's board with friendlier faces.
Regulatory Concern
When both sides finally agreed on a merger in November 2014, Lesar tried to clear away the regulatory concerns that had worried many analysts and investors.
"We have the best antitrust counsel available," Lesar, Halliburton's CEO since 2000, said on a conference call. "We are absolutely confident that we're gonna get this thing done."
The U.S. Justice Department thought differently, after hearing concerns from dozens of companies. It ultimately concluded the deal was "not fixable at all," David Gelfand, a deputy assistant attorney general, told reporters on a conference call Monday.
The two sides initially offered to sell businesses with $7.5 billion in annual sales to mollify antitrust concerns. An initial set of divisions to be shed was later expanded in the face of skeptical regulators in the U.S. and Europe. Competitors from Caterpillar Inc. to Honeywell International Inc. and General Electric Co. were reportedly weighing bids for Halliburton assets expected to go on sale by April 2015.
But warning lights began to flash in July. The closing date was pushed back to Dec. 1, one of multiple delays. The U.S. Justice Department's antitrust division assigned the case to John Read, a veteran litigator who had helped the government win a challenge of American Express Co.'s credit-card rules.
European Delay
On July 31, the European Union rejected the companies' 1,000-page merger filing as incomplete, an unusual move that forced the companies to wait until November before the assessment would formally start. EU officials twice delayed the probe after that, saying in increasingly pointed terms that Halliburton and Baker Hughes weren't providing key information.
As the review process dragged on, the two companies unveiled the list of assets they'd sell in September. They included Baker Hughes businesses that cemented oil wells in Australia, Brazil and Europe as well as its hydraulic fracturing unit in the Gulf of Mexico. Halliburton would later sweeten the pot, offering to unload Baker's offshore-drilling division.
"We remain committed to seeing this deal through," Lesar declared in January.
Yet resistance only grew. Regulators in Australia and Brazil raised concerns publicly, as did drillers around the globe, who feared getting squeezed at a time when oil and natural gas prices were already plunging. "Obviously, when you have less competition in service providers, I'm not in favor," Total SA CEO Patrick Pouyanne said during an industry conference in New Orleans in March.
April Lawsuit
The Justice Department sued on April 6 to block the acquisition, saying it threatened to eliminate head-to-head competition for services in the U.S. oil patch. Bill Baer, head of the antitrust division, blasted the companies for proposing "the most complicated array of piecemeal divestitures and entanglements" he had ever seen.
"Competition in the oilfield services industry is critical to our economy," he told reporters. Attorney General Loretta Lynch on Sunday issued a statement celebrating the deal's demise.
Back in 2014, Lesar was ready to acknowledge the difficulties that go along with a large deal.
"At the end of the day, the stars always have to align correctly for big transactions to come together," Lesar said in an interview at the time. "It's also no secret when you go through these kinds of things that there's a bit of theater involved in the final negotiations."
Before it's here, it's on the Bloomberg Terminal.
LEARN MORE