Fiat's Marchionne Adds Ferrari CEO Title After Felisa Retires
by and
New role in addition to executive's jobs at Fiat Chrysler, CNH

Felisa to remain at the carmaker as a technical adviser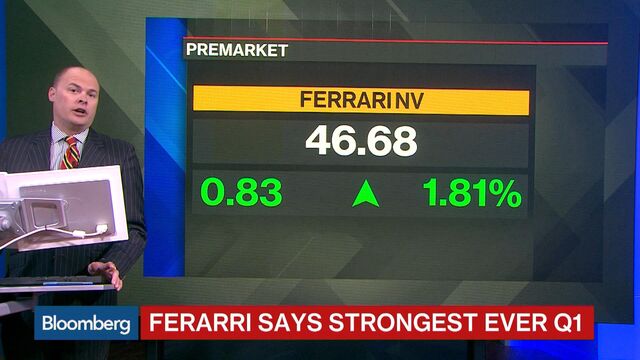 Ferrari NV appointed Chairman Sergio Marchionne to replace Amedeo Felisa as chief executive officer with "immediate effect," adding yet another title for the Italian-Canadian manager, who also runs Fiat Chrysler.
Felisa, 69, retired from his post as the carmaker's new board of directors met for the first time to discuss first-quarter results, the company said in a statement, confirming a previous report by Bloomberg. Ferrari raised its 2016 profit targets after adjusted earnings before interest, taxes, depreciation and amortization rose 11 percent in the first quarter to 178 million euros ($205 million).
With the addition of the Ferrari CEO job, Marchionne, 63, takes full responsibility for expanding the company following its January spinoff from Fiat Chrysler Automobiles NV, which he orchestrated. The carmaker has gotten off to a slow start as a stand-alone player, with the stock trading below its $52 initial public offering price since mid-November.
"Marchionne is juggling a lot of balls," said Erik Gordon, a professor at the University of Michigan's Ross School of Business. "He has Fiat, Chrysler, Jeep, his dreamed-of potential combination with another company, reviving Alfa, and now, not just Ferrari, but turning Ferrari into a different company."
The latest appointment adds to the unusual number of executive and board posts held by Marchionne. Alongside his roles as chief executive at Fiat Chrysler and Ferrari, Marchionne is vice chairman of Exor SpA, the investment vehicle of Italy's Agnelli family, which controls the carmakers; chairman of truck and tractor manufacturer CNH Industrial NV; and chairman of product-testing company SGS SA. He's also an independent director at cigarette producer Philip Morris International Inc.
Marchionne announced Ferrari's separation from London-based Fiat Chrysler a few weeks after he took over as chairman of the super-car maker in 2014. He replaced Luca Cordero di Montezemolo, who stepped down after more than two decades, after the two clashed over strategy. Marchionne has said he'll apply the Ferrari brand more broadly to luxury goods other than autos in a bid to boost profit now that the marque is independent.
Felisa, who ran product development at Fiat Chrysler's Alfa Romeo division before joining Ferrari, was one of Montezemolo's closest aides for more than 20 years. He had been CEO since 2008.
Felisa is "beyond any doubt one of the best automotive engineers in the world," Marchionne said Monday in the statement.
Before it's here, it's on the Bloomberg Terminal.
LEARN MORE