Baidu Slumps as Chinese Regulators Probe After Student Death
Bloomberg News
Online, industry and health regulators form investigative team

Questions about placement of paid ads from health companies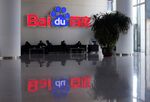 Shares in Baidu Inc. tumbled Monday on news that Chinese regulators have begun an investigation into the search giant's practices of placing paid content after a university student's death was linked to his use of the site to seek treatment.
A team of investigators from the Cyberspace Administration of China, the national health commission and the top industry regulator will probe Baidu's compliance with online regulations, the administration said in a statement on its website. The U.S.-traded stock fell 7.9 percent to $178.91. It was the second-worst performance in the Bloomberg China-U.S. Equity Index, which fell about 1 percent.
"I am somewhat surprised that Baidu would be the target of an aggressive government investigation like this because they have always been supported as a home-grown alternative to Google," David Riedel, president of New York-based Riedel Research Group Inc. said by e-mail. He has a hold rating on the stock.
"Investors must be wary of this development because if it becomes clear that Baidu has somehow fallen afoul of powerful politicians in Beijing this could be the first of many attacks on the company," Riedel said.
Computer science major Wei Zexi, 21, suffered from a rare form of cancer called synovial sarcoma. After receiving radiation and chemotherapy, according to the South China Morning Post, he used Baidu to search for alternative treatments and opted for a form of immunotherapy at a Beijing-area hospital based on recommended results from the search. The controversial treatment, which employs cells generated by the patient's immune system and cost Wei's family about 200,000 yuan ($31,000), was unsuccessful, the newspaper reported. The student died last month.
The incident triggered criticism of Baidu and online discussion about whether the company should do more to verify advertisers who pay to promote articles or other information in search rankings, the Xinhua News Agency said. The Beijing-area hospital couldn't be reached for comment outside of normal office hours. Baidu said it will cooperate with the investigation.
"We welcome the investigation team's efforts," Tracy Hu, a spokeswoman for Baidu, said in an e-mailed statement. "To preserve a healthy Internet environment is the responsibility of every online participant. Baidu will make every effort to accommodate the investigation, accept supervision and root out false information and illegal activities on the Internet."
The Cyber Administration summoned Baidu Chief Executive Officer Robin Li for a meeting on Monday, Sina news reported, citing company staff that it did not identify.
— With assistance by Dingmin Zhang, Bonnie Cao, and Stephen Tan
Before it's here, it's on the Bloomberg Terminal.
LEARN MORE