Brexit Referendum Mystifies U.K. Executives Bracing for Impact
by
Executives see pricier iPhones, fewer foreign home buyers

Unlike economists, business leaders reluctant to take sides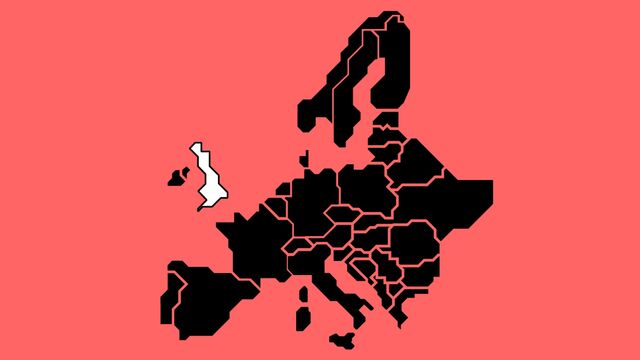 More expensive iPhones, fewer foreign home buyers and a whole lot of unknowns -- that's what some U.K. corporate bosses say the country can expect if it votes to leave the European Union.
QuickTake Will Britain Leave the EU?
In February, nearly 200 chief executive officers signed a letter calling for Britain to stay. Others say the country should leave, though many have declined to take sides. When grilled on a so-called Brexit during quarterly earnings presentations, however, CEOs have tended to speak only in general terms about the ramifications for the U.K. Few have quantified the effects on their own companies.
"There may be opportunities, there might be cost -- we just don't know," George Weston, CEO of Associated British Foods Plc, said of the company's sugar business on April 19. "I wouldn't say we're indifferent to Brexit, but we would survive it."
In the already opaque world of corporate language, the Brexit debate has taken on a particularly non-committal tone, with few executives daring to come down too hard on one side or the other, be it for concern of making wrong-way bets, or for fear of alienating customers. That uncertainty among CEOs contrasts strikingly with economists' detailed, dire warnings of what's at stake in the June 23 referendum.
The Organization for Economic Cooperation and Development said Wednesday that a British exit would shrink the U.K. economy by 5 percent by 2030. Campaigners for a so-called Brexit countered Thursday with a forecast that the U.K. economy could grow by an extra 4 percent over 10 years outside the EU.
Digital Growth
One of the few CEOs to offer specifics is Ronan Dunne, CEO of mobile operator O2, who was among the signatories of the anti-Brexit letter.

If Britain left the EU it would have to draw up new regulations governing telecommunications and other businesses. Along with an expected fall in the pound in the event of Brexit, this would lift costs for mobile operators, Dunne said.
"The concern is that the economy in Britain is driven by services and by growth in digital," he said on Bloomberg Television on Friday. "And if our input costs for delivering digital go up, then that would make the U.K. less competitive."
Property companies have sounded alarm bells, after an influx of foreign buyers lifted transaction volumes in recent years. Nic Budden, the CEO of Foxtons, a real estate agency, warned this week of challenging conditions in the first half of the year, with reduced sales because of uncertainty around the referendum.
Close Vote
Polls suggest that the vote will be close and that many voters remain undecided. The debate over the EU sparks strong emotions and businesses worry about alienating customers.
So many executives are sitting tight, figuring they might not have to do anything if the country votes to stay -- and that they'll have plenty of time to prepare if Britons choose to leave.

"Should the U.K. vote to exit the EU, on the day after, nothing will happen," Bill Winters, CEO of Standard Chartered Plc, said in an interview with Bloomberg TV on Wednesday. "Life will go on as it did before. But there will be a tremendous amount of conjecture about what might happen. That's destabilizing."
'Who Knows?'
Simon Wolfson, CEO of apparel chain Next Plc, said on a call with analysts on March 24 that he'd been asked a lot about the long-term effects of Brexit and struggled to answer because neither side in the debate had spelled out what it would do in the event of an exit. "Who knows?" he said. "It's impossible to make any sensible plans or contingencies."
The CEOs of Kingfisher Plc, WorldPay Group Plc, and ITV Plc all expressed similar doubts about what might happen.
Even if they're reluctant to put numbers on the possible effects of Brexit, some executives say the fog surrounding the referendum has softened the near-term business outlook.

Martin Sorrell, CEO of advertising company WPP Plc, said on an earnings call in March that while the risk of Brexit hadn't slowed down ad spending, a number of clients had put a freeze on capital investment. "It would be cloud-cuckoo-land to believe that people who are making significant decisions at this time of year would not wait until the result of the referendum."
No Impact
While some analysts have warned that businesses such as restaurants and bars might have a harder time recruiting workers if the U.K. left, big companies in areas like pharmaceuticals say they haven't run into any hiring problems yet.
"We have seen no impact in terms of recruitment disruption or anything like that," Andrew Witty, CEO of drugmaker GlaxoSmithKline Plc, said on Wednesday.
Some foreign executives of companies with significant operations in the U.K. have been less circumspect than their British counterparts.
Jose Antonio Alvarez, CEO of Santander SA, which operates one of the largest retail bank networks in Britain, said Thursday that a potential exit could hurt the Spanish parent company by weakening the pound. That would reduce Santander's earnings when converted into euros. "For the economy, it's bad for the U.K. and also for the euro zone," he said.
Before it's here, it's on the Bloomberg Terminal.
LEARN MORE