U.S. Stocks Rally While Dollar Slips With Emerging Market Assets
by and
S&P 500 rebounds as banks, consumer shares lead gains

Oil leads retreat in commodities; Treasuries also fall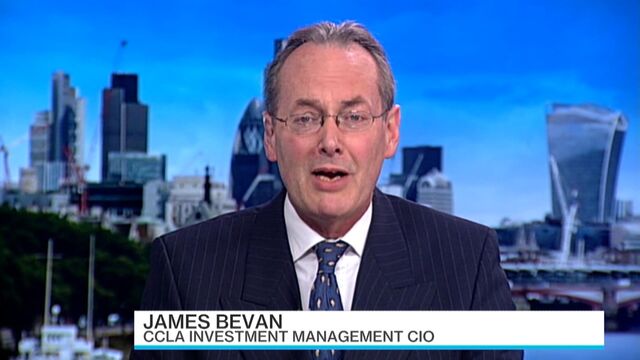 U.S. shares rose the most in two weeks, while the dollar weakened to an almost one-year low as traders reduced bets on higher American interest rates amid evidence of slowing manufacturing. Emerging-market assets retreated with crude oil.
The Standard & Poor's 500 Index advanced as consumer and financial shares paced gains amid corporate results. The euro topped $1.15 for the first time since August, while gold pared its climb after climbing above $1,300 an ounce for the first time since January 2015. Oil fell below $45 a barrel in New York, after a 20 percent surge in April. Brazil's real led losses among its major peers, while 10-year Treasury yields rose to 1.85 percent.

Global equities advanced on the first day of May, following a week that saw risk assets fall from favor amid speculation central banks from Asia to Europe won't rush to add to unprecedented stimulus. The Federal Reserve struck a more hawkish tone with its policy statement last week, even as signs mount that the rate of U.S. growth continues to slow, weighing on the dollar. Commodities retreated in the wake of their best month since 2010.
"We can hold the strength, but there's still a lack of conviction in the market," said Bill Schultz, who oversees $1.2 billion as chief investment officer at McQueen, Ball & Associates Inc. in Bethlehem, Pennsylvania. "Earnings have been spotty at best, and outlooks have given investors some pause about the future. At the same time, there are no signs pointing to a dramatic pullback."
U.S. manufacturing expanded at a slower pace than forecast in April as factories continued to grapple with lax global demand and fallout from a weakened energy industry. China released an official factory gauge over the weekend that supported the idea its economy is stabilizing, while manufacturing in the euro zone expanded at a faster pace than initially estimated in April. Markets from China to Hong Kong and the U.K. were shut for May Day holidays.
Stocks
The S&P 500 advanced 0.8 percent as of 4 p.m. in New York, its biggest gain since April 13.
Amazon.com Inc. jumped to a four-month high after earnings last week fueled the stock;s biggest one-day gain in nine months on Friday. Wells Fargo & Co. and JPMorgan Chase & Co. climbed at least 0.9 percent. Halliburton Co. rallied 1.8 percent and Baker Hughes Inc. fell 2 percent after the two oil-services firms ditched their $28 billion merger. Apple Inc. extended its longest losing streak since 1998, slipping for an eighth straight day.
A rebound that lifted the S&P 500 as much as 15 percent from its February low faltered last week amid lackluster earnings and signs economic growth may be stumbling. The gauge reached a four-month high on April 20, within 1.3 percent of the record high set last May.
Company results so far haven't convinced investors that profits will rebound from what's shaping up to be a fourth straight quarterly decline. Apple, Microsoft Corp. and Alphabet Inc. all forecast sales in coming periods below analyst estimates, sinking large-cap technology shares even as Facebook Inc. and Amazon surpassed forecasts. Banks, however, used cost cuts to top predictions, with financial shares up 1.1 percent Monday.
The MSCI Emerging Markets Index fell 0.6 percent, following two weeks of losses that pared its April gain to .0.4 percent South Korea's Kospi index dropped for a fourth day and Indonesia's Jakarta Composite Index slid to a three-week low, tracking losses in Japanese equities, which sold off following the steepest two-day increase in the yen since the global financial crisis.
Currencies
The yen has strengthened 12 percent this year, the best performance among Group-of-10 currencies. The euro advanced as much as 0.7 percent to $1.1536, its highest level since Aug. 26.
The Bloomberg Dollar Spot Index, which tracks the greenback against 10 major peers, 
fell to its lowest close since May 15 last year. The gauge slumped 2 percent last week as the Bank of Japan's surprise decision to stand pat on stimulus coincided with the Fed reiterating it's in no rush to restrain the U.S. economy by raising borrowing costs.
"So long as the Fed signals that they are being cautious in raising rates, real yields in the U.S. will decline, leading the dollar weaker," Hiromichi Shirakawa, Credit Suisse AG's chief Japan economist and a former BOJ official, said from Tokyo. "The currency market is in a rather dangerous zone."
Commodities
Gold futures climbed as much as 1.2 percent to $1,306 an ounce, the highest intraday level since January 2015, before settling at $1,295.80.
West Texas Intermediate crude lost 2.5 percent to $44.78 a barrel, declining for a second day as near-record Iraqi output added barrels to a worldwide supply glut. Brent oil retreated 3.3 percent, following a 22 percent surge in April, to $45.83 a barrel.
While the London Metal Exchange was shut Monday, the Bloomberg Commodity Index fell 0.9 percent, snapping a four-day advance.
Bonds
Ten-year Treasury yields rose four basis points as trading resumed in New York after being closed during the European day. The yield dropped five basis points last week. Puerto Rico, a U.S. territory, said Sunday that it will default on a $422 million bond payment for its Government Development Bank.
Canadian government bonds ended their worst month in a year in April as investors switched bets to central bank interest-rate increases from cuts on signs of economic strength and an oil rally.
Germany's 10-year bond yield fell one basis point, or 0.01 percentage point, to 0.27 percent, after three weeks of increases that pushed it to as high as 0.31 percent April 27, the most in more than a month.
Before it's here, it's on the Bloomberg Terminal.
LEARN MORE