It's Crunch Time for Turnbull as Australia Set to Unveil Budget
by
Sweeteners unlikely in Australia budget as deficit persists

Government needs economic narrative before expected July vote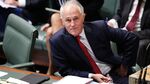 Shoring up Australia's economy is one priority for the federal budget to be unveiled Tuesday. Another is ensuring Malcolm Turnbull is still prime minister two months from now.
After seizing the role in September with a pledge to provide economic leadership, it's crunch time for Turnbull to build a platform for an election that's expected to be held July 2. Inaction has hurt the prime minister, with his popularity falling and his governing coalition trailing the opposition in opinion polls.
Finding sweeteners for voters will be tough, with the underlying cash deficit expected to reach A$35 billion ($27 billion) in 2016-17, A$1.3 billion more than the government forecast in December, according to economists surveyed by Bloomberg.
National Australia Bank Ltd. and JPMorgan Chase & Co. have said the government needs to undertake budget repairs to safeguard the country's AAA rating, while Moody's Investors Service warned that debt will grow without revenue-boosting measures -- many of which have already been rejected or watered down by Turnbull.
"There's disappointment in the business community with the lack of policy action," said Saul Eslake, an independent economist who has studied the Australian economy for more than three decades. "Now the government needs to show it can create a credible path back to surplus over the medium term while trying to maximize its chances of winning the election, at a time when it doesn't have money to throw around."
Leadership Turnover
Meeting voter expectations is an increasingly fraught task for Australian leaders. The nation's had six prime ministers in eight years -- with leaders either thrown out by the electorate or removed by their own parties. Turnbull, who ousted Tony Abbott in September in a ballot of Liberal Party lawmakers, will be seeking his own mandate, and to draw a line under such instability.
The former banker faces an emboldened Labor opposition that's inched ahead in opinion polls as leader Bill Shorten seizes the initiative with policy proposals such as ending tax perks for landlords. The government meanwhile has been accused by business leaders of dithering on taxation reform after ruling out an increase to the goods and services tax to pay for cuts to personal income tax.

Australian newspapers have been awash with policies that may be included in Tuesday's budget, including cutting tax concessions for high-income earners saving for retirement, and increasing the tobacco excise. The government may target tax minimization by multinational companies, and raise the threshold at which a 37 percent personal income tax kicks in.
Turnbull announced Friday the government will set up a financing unit to help the private sector develop infrastructure for cities. The government is considering issuing 30-year bonds to take advantage of historically low borrowing costs and help guarantee such projects, the Australian Broadcasting Corp. said.
The government will also deliver a small cut to the 30 percent corporate tax rate and add A$2.9 billion to total health spending, the Sydney Morning Herald reported. About A$5 billion will be added to infrastructure spending, the Australian newspaper said; while the Australian Financial Review reported that retirement funds for lower-income earners will be boosted using the proceeds of curbs to concessions for the well-off.
"The budget that I'll hand down tomorrow night is a national economic plan for jobs and growth," Treasurer Scott Morrison told reporters on Monday. "This is not a time for throwing money around."
The economic backdrop for the budget is mixed. With interest rates at a record-low 2 percent, the central bank has enjoyed some success at re-balancing the economy toward industries like tourism and education as a mining investment boom peters out. Australia's services exports have shifted from detracting half a percent from gross domestic product to contributing that amount, unemployment is at a 2 1/2-year low and business confidence is strong.
Fragile Economy
Yet there are signs of fragility. The Reserve Bank of Australia's efforts have been challenged by a local currency that's gained almost 5 percent this year. Government data last week showed the lowest annual core inflation reading on record in the first three months of the year. Traders are pricing in a 57 percent probability the RBA will cut its benchmark rate to 1.75 percent on Tuesday, according to swaps data compiled by Bloomberg.
The government will avoid creating a fiscal drag for the economy. Morrison has said the overall tax burden in the budget won't be lifted, while Turnbull has indicated he'll prioritize growth over deficit reduction. Former leader Abbott went into a tailspin from which he never recovered after the May 2014 budget surprised and angered voters with cuts to health and education.
"This budget will not be about a fistful of dollars, it will be about prudence, fairness and responsibility," Turnbull said in a speech last month. It will "include changes to our tax system designed to generate jobs and growth; promote investment, innovation and enterprise."

The budget is a chance for Turnbull to reset his policy agenda ahead of the election, said Paul Williams, a political analyst at Brisbane's Griffith University. The government could still pull out a sweetener to woo undecided voters, he said.
"Election-year budgets are always critical and this one will be a tricky prospect for Turnbull," said Williams. "If the government delivers a plan that sinks like a stone with the electorate, it will be very difficult for them to argue they should be elected."
Before it's here, it's on the Bloomberg Terminal.
LEARN MORE