Rajan Emboldens India Bond Bulls by Switching on the Money Pumps
by and
RBI's debt purchases mitigate impact of government borrowing

Ten-year yield to drop to 7.30 percent by year-end: survey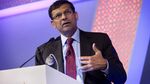 Bond investors in India are turning more bullish as central bank Governor Raghuram Rajan shows them the money.

Ten-year notes capped a third monthly gain on Friday, with the yield dropping 34 basis points since Jan. 31 to 7.44 percent. It's seen declining to 7.30 percent by Dec. 31 in the latest Bloomberg survey, down from 7.50 percent predicted in a March poll. The optimism is stemming from the Reserve Bank of India's commitment to provide more cash to the financial system and expectations that adequate monsoon rains will keep inflation in check.
The central bank conducted open-market purchases of bonds worth 300 billion rupees ($4.5 billion) in April, helping mitigate the impact of government debt sales as Prime Minister Narendra Modi began his record borrowing program. An auction of 10-year sovereign notes on April 22 saw the highest bids as a proportion of debt on offer since August 2014. That marks a sea change from last year, when waning investor appetite caused a sale of treasury bills to fail mid-May and underwriters rescued an auction of government securities.

"You have a large buyer in the room and therefore government bonds may get squeezed down on the yield side," said Maneesh Dangi, Mumbai-based co-chief investment officer at Birla Sun Life Asset Management Co., which oversees 1.37 trillion rupees as India's fourth-largest money manager. "We like government bonds with maturities of 20 years and above."
'Safety Net'
The monetary authority resumed open-market operations in December, after a gap of almost two years, to tackle a cash crunch in the financial system. The 1.01 trillion rupees it has since infused by way of OMO purchases is also to serve the RBI's purpose of improving monetary transmission to spread the benefits of its five interest-rate cuts since early 2015 more widely into the world's fastest-growing economy.
Rajan announced a series of liquidity measures when he last reduced the benchmark repurchase rate on April 5 to a five-year low of 6.5 percent. The move followed Modi government's Feb. 29 budget decision to retain its target of keeping the fiscal deficit to 3.5 percent of the gross domestic product in the year ending March 2017, the smallest gap since 2008.
"The RBI's new liquidity framework has provided a safety net, without which local bonds would have already sold off," said Suyash Choudhary, Mumbai-based head of fixed income at IDFC Asset Management Co., which oversees 523 billion rupees of assets. "The bond market optimism is justified to a large extent."
Seasonal Rains
The confidence seems to be spreading to foreign investors. Overseas holdings of Indian government and corporate notes increased by a combined 48.25 billion rupees over April and March after falling by 87.6 billion rupees in February, the most in 22 months.
The benchmark 10-year yield fell 3 basis points last month, making it the debt's best April performance since 2013. A drop to 7.30 percent would take the yield to its lowest since June 2013. It was down one basis point on Monday at 7.43 percent as of 11:18 a.m. in Mumbai. The one-year overnight indexed rate swap, the cost to lock in payments on borrowings, dropped one basis point to 6.66 percent, the lowest level since April 11, data compiled by Bloomberg show.
Bonds have also been supported by the weather department's forecast of the first above-average monsoon in three years. The June to September showers are crucial to keep9 food prices in check as they account for about 80 percent of India's total rainfall.
"We have witnessed a smart rally on the back of government's fiscal restraint and an accommodative central bank," said Dhawal Dalal, Mumbai-based head of fixed income at DSP BlackRock Investment Managers Pvt., which oversees about 402 billion rupees. "We believe that the RBI's presence is crucial as that should keep the demand-supply dynamic balanced. A normal monsoon will have a positive impact on sentiment and the government's revenue and add to economic growth."
'Big Comfort'
Birla's Dangi said he expects a 25-basis point rate cut from the central bank in June and another one in September-October.
Modi's administration plans to borrow a gross 6 trillion rupees in the fiscal year ending March 2017. DSP BlackRock expects the RBI's OMO purchases to be between 1.5 trillion rupees and 1.75 trillion rupees, Dalal said.
"The RBI's presence is a big comfort for the market," said R. Sivakumar, Mumbai-based head of fixed income at Axis Asset Management Co., which oversees about 378 billion rupees. "We expect the yield to drift lower, closer to 7 percent during the course of the year."
Before it's here, it's on the Bloomberg Terminal.
LEARN MORE