Oil Bulls Bet the Waning U.S. Shale Boom Will Curb Global Glut
by
Hedge funds boost bullish wagers to highest in 11 months: CFTC

U.S. crude output decreases to lowest since October 2014: EIA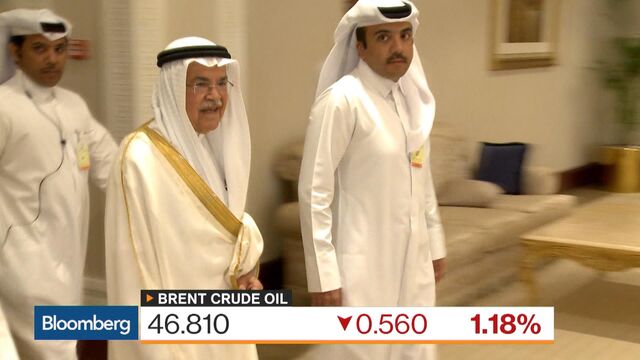 Hedge funds are rooting for a quick collapse of the U.S. shale boom.
Money managers turned the most bullish since May as West Texas Intermediate crude climbed to a five-month high on optimism that falling U.S. production and rising fuel demand will trim the global glut. Investors shrugged off an inventory gain that left supplies at the highest since 1929.

"The market's focused not on current oversupply but on predictions of a balance in the second half of the year," said Mike Wittner, head of oil markets at Societe Generale SA in New York. "Managed money is just adding to the upward momentum."
Speculators' net-long position in benchmark U.S. crude climbed to the highest since May 12 in the week ended April 26, according to data from the Commodity Futures Trading Commission. Short positions dropped to a 10-month low.
WTI futures surged 7.2 percent on the New York Mercantile Exchange in the CFTC report week, and were at $44.83 a barrel as of 11:56 a.m. in New York on Monday.
Spending Cuts
Energy companies responded to the lowest prices since 2003 earlier this year by cutting spending on exploration and developing new fields. The number of active oil rigs fell to 332 last week, the least since November 2009, according to Baker Hughes Inc. The total is down to less than one-fourth of the 2014 peak.
U.S. crude production fell to 8.94 million barrels a day in the week ended April 22, the least since October 2014, Energy Information Administration data show. The agency on April 12 cut its average forecast for the whole year to 8.6 million barrels a day. Output from U.S. shale formations will drop in May to the lowest level in almost two years.
"Supply in the U.S. is falling pretty quickly, and globally, in the second quarter of this year for the first time in more than three years we are going to have a contraction in global output," Francisco Blanch, head of commodities at Bank of America Merrill Lynch in New York, said on Bloomberg Television Friday. "That combination of lower supply and robust demand will lead to a change of inventory dynamics in the second half of the year."
Consumption Gains
U.S. drivers are doing their part. Gasoline consumption over the past four weeks was up 5.6 percent from a year earlier at 9.4 million barrels a day through April 22, EIA data show.
Speculators' net-long position in WTI rose 3,136 futures and options combined to 249,123, CFTC data show. Short positions, or bets that prices will decline, tumbled 6.9 percent, while longs slipped 0.5 percent.
In other markets, net bullish bets on Nymex gasoline rose 11 percent to 25,964 contracts. Gasoline futures increased 5.8 percent in the period. Net bearish wagers on U.S. ultra low sulfur diesel decreased 93 percent to 529 contracts, the least bearish position since July 2014, as futures climbed 5.5 percent. 
OPEC Barrels
Rising OPEC production leaves the oil market vulnerable to a correction, said Tim Evans, an energy analyst at Citi Futures Perspective in New York. The Organization of Petroleum Exporting Countries boosted production by 484,000 barrels a day to 33.217 million in April, the most in monthly data going back to 1989, a Bloomberg survey of oil companies, producers and analysts showed.
"More buying now will result in more selling later," Evans said. "At some point rising OPEC production will be recognized as more than offsetting the drop in U.S. production."
Before it's here, it's on the Bloomberg Terminal.
LEARN MORE