Merkel's $1.4 Billion E-Car Push Boosts Infineon, STMicro
by and
Value of chips in e-cars, hybdrids double that in regular cars

German subsidy plan aimed at having 1 million e-cars by 2020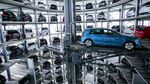 Chancellor Angela Merkel's 1.2 billion euro ($1.4 billion) electric-car push is a boon to another industry seeking to benefit from the shift beyond gasoline: chipmakers such as Germany's Infineon Technologies AG.
The subsidy program, which kicks off in May with rebates for vehicle buyers and plans for 15,000 battery-charging stations, translates into about $300 million of chips by 2019, said Guenther Hollfelder, an analyst at Baader Bank AG. Infineon, which reports second-quarter earnings Tuesday, is slated to win most of that, he said.
"No one is better positioned to benefit from the e-car push than Infineon, because they're among the leading players for both automotive as well as power semiconductors," Hollfelder said. STMicroelectronics NV is another beneficiary because of a broad power chip portfolio and strong ties with the car industry, in particular in its home markets Italy and France, he said.

Automakers from mass-market PSA Peugeot Citroen to upscale Daimler AG have vowed to challenge Tesla Motors Inc. in electric cars and are set to get a boost as Merkel's program lowers the price of vehicles for the consumer. That's welcome news for chipmakers looking for fresh revenue streams as demand for semiconductors used in smartphones and tablets slows.
The fallout from Volkswagen's emissions-cheating scandal may boost sales of new models coming out, "substantially" benefiting chipmakers including Infineon, STMicroelectronics and NXP, said Anand Srinivasan, a semiconductor analyst at Bloomberg Intelligence.
Infineon shares gained as much as 2.3 percent and rose 1.5 percent to 12.61 euros 10:22 a.m. in Frankfurt. STMicroelectronics advanced as much as 0.9 percent in Paris.
Among new electronic and hybrid models are Volvo's plug-in hybrid S90 sedan, expected this year, and Volkswagen's hybrid SUV, the T-Prime GTE, which it presented at the Beijing show in April. Daimler, which in February outlined plans to boost spending on electric autos, seeks to build an e-car with a 500-kilometer (310-mile) range and will provide more details on the vehicle this year. Tesla's cheaper Model 3 is slated for late 2017.
Chips control anything from electricity flow to airbags and LED headlights, and electronic cars and plug-in hybrids are especially lucrative for the likes of Infineon and STMicro because they contain semiconductors worth about $700 per vehicle -- roughly double the amount in regular cars. The car-chip market is set to grow to as much as $38 billion in 2019 from $29 billion last year, NXP Semiconductors NV predicts.
Plug-Ins, Hybrids
Infineon makes chips for most carmakers, including BMW AG and Tesla, and has a long history of making power semiconductors for industrial applications such as drives, energy transmission and high-speed trains. It stands to gain from the new incentives.
"The market for electric cars will grow and Infineon will grow with it," said Stephan Zizala, who heads Infineon's chip business for e-cars and hybrids. Infineon is a "strong player" in related growth areas, he said, citing renewable power production and transmission as well as battery-charging stations.
For STMicroelectronics, a boost is more than welcome. The company lost its spot as Europe's largest semiconductor maker by revenue last year, was left out of the industry's M&A race as it pursued internal restructuring instead, and has seen its shares fall 35 percent in 12 months. Making cars greener, safer and more connected is "an important opportunity" for STMicroelectronics, CEO Carlo Bozotti said last week.
While NXP, the largest chip supplier to the car industry, has an advantage in networking, infotainment and automated driving features, Infineon is stronger when it comes to power chips, Srinivasan said. NXP focuses more on advanced drivers assistance systems than on e-cars, Chief Executive Officer Rick Clemmer said by phone on April 28.
Though Europe remains one of the biggest car markets, an even larger boost may come from Asia. China, which still imports the vast majority of chips used in the country, wants 5 million "new-energy vehicles" -- either fully electric or hybrids -- hitting roads by 2020 to reduce tailpipe emissions and a reliance on imported oil.
Before it's here, it's on the Bloomberg Terminal.
LEARN MORE