Lowflation Looming Over RBA Makes Aussie Rate-Cut a Closer Call
by
Markets price in 56% chance of cut after shock inflation data

RBA to release decision just hours before government budget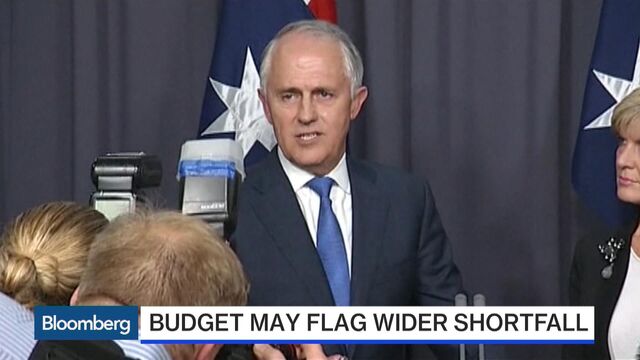 The threat of persistent weak inflation that's engulfed much of the developed world has come to Australia, making Tuesday's interest-rate decision a closer call than it appeared less than a week ago.
The economy saw its first drop in consumer prices since 2008 in the first quarter and the weakest core inflation on record, data showed last Wednesday. That's sent investor bets soaring that Reserve Bank of Australia Governor Glenn Stevens will cut the cash rate to a fresh record low of 1.75 percent, ending a one-year pause just hours before the government unveils its pre-election budget.
The central bank had enjoyed some progress in steering growth drivers toward services like tourism and education in the country's southeast and away from mining in the north and west, underpinned by easy policy and a weaker currency. Yet the brighter prospects were clouded in recent months as the local dollar rebounded as much as 15 percent from an almost seven-year low it touched in January. And then the inflation report hit.
"It was a shocker," said James McIntyre, head of economic research at Macquarie Group Ltd., who reinstated his prediction of a May rate cut shortly after. "Disinflation continued across the broad services space. From an inflation expectations perspective, a negative headline outcome should be a concern for the RBA. Particularly when combined with the 'complication' for the economy's transition posed by a higher Australian dollar."

In Europe, Japan and even New Zealand, policy makers have eased to try to prevent disinflation becoming anchored in price expectations. Indeed, the Federal Reserve, which last year began tightening policy, has expressed similar concerns, particularly as falling U.S. unemployment fails to trigger the wage demands expected.
In Australia, wage growth is at levels last seen during the country's most recent recession -- in 1991 -- though the RBA maintains that limited pay gains have encouraged firms to take on more staff.
Still, markets scrambled to respond to the weak inflation reading published on April 27, reflecting the central bank's penchant for adjusting policy soon after a CPI release. The Aussie dollar plunged 2 percent on Wednesday and on Friday traders were pricing in a 56 percent chance of a May rate cut, up from just 18 percent the day before the report. In a poll of economists, 12 out of 27 forecasters surveyed are now expecting a policy easing, compared with just three prior to the CPI data.

Before that, the picture was more optimistic: Unemployment in Australia had fallen to a 2 1/2-year low in March as business conditions and confidence improved in an economy where services exports were now contributing to growth rather than detracting from it. Indeed, the chances seemed remote that the RBA would act on an easing bias it's maintained.
If it does cut rates, the central bank's quarterly update of growth and inflation forecasts due to be released on Friday will provide an opportunity to explain its thinking.
The RBA's decision has been complicated by the government bringing forward its budget to Tuesday -- meaning the rate announcement comes just five hours before the release of the country's key fiscal document. The budget was brought forward to give Prime Minister Malcolm Turnbull time to call an election that's tipped for July 2. That might encourage Stevens to get a rate cut away before official campaigning begins.
Michael Blythe, chief economist at Commonwealth Bank of Australia, the nation's largest lender, doesn't expect that to happen on Tuesday. He believes an easing from already very low rates could have the opposite effect to the one desired.
"Households now worry that rate cuts from record lows are an indicator of worsening economic prospects," said Blythe. "Further complicating the debate is RBA concern about the imbalances building from the extended period of extreme policy settings."
Before it's here, it's on the Bloomberg Terminal.
LEARN MORE