Brexit Would Boost Scottish Independence Calls, SNP Leader Says
by
Sturgeon comments as new poll gives edge to Brexit campaign

Scotland should have another independence vote if most want it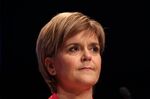 Scottish First Minister Nicola Sturgeon predicted rising support for a second independence referendum if Britain votes to leave the European Union.
"The prospect of Brexit would definitely lead to growing demand for Scottish independence," the Scottish National Party leader told BBC Television's "Andrew Marr Show" on Sunday. "If we see that growing demand, no one would have the right to stand in the way of that."
Sturgeon made her comments as a new poll gave a narrow lead to the Brexit campaign less than two months before Britain holds a referendum on its EU membership. Forty-six percent of voters want to leave the bloc, 43 percent back staying in and 11 percent are undecided, the survey by ICM Ltd. for the Sun on Sunday newspaper found.
It also found that President Barack Obama's intervention has had a limited impact on British voters. Last month, Obama warned that Britain would go to the "back of the queue" for a new U.S. trade deal if it quits the EU. Seventy-eight percent told ICM his comments wouldn't affect their decision.
Voters go to the polls in local and regional elections across the U.K. next week. In Scotland, Sturgeon's pro-independence SNP is on course to retain control of the devolved parliament in Edinburgh, with new powers over taxation.
'Preferred Option'
Scotland rejected independence by 55 percent to 45 percent in 2014 but the SNP went on to make sweeping gains in the British general election in 2015, taking 56 of the 59 Scottish seats in the House of Commons at the expense of the opposition Labour Party.
Polls suggest Scotland is more pro-EU than other parts of the U.K. Sturgeon said the country should have another referendum on whether to go it alone if there is "clear and sustained evidence that independence has become the preferred option of a majority of people."
Before it's here, it's on the Bloomberg Terminal.
LEARN MORE