Aso Says Japan Will Take Action With Currency If Needed
by and
Currency market speculation `extremely concerning:' Aso

Finance minister says U.S. report doesn't constrain response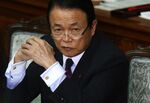 The recent jump in the yen is clearly a one-sided speculative move that is extremely concerning and Japan is ready to take action if needed, Japanese Finance Minister Taro Aso said on Saturday.
"A 5-yen move in two days is clearly a one-sided speculative move and is extremely concerning," Aso told reporters at Haneda Airport late Saturday, according to a transcript obtained by Bloomberg. "So that these speculative moves don't continue, we will watch foreign exchange market moves with a sense of vigilance, and will act if necessary."
The yen touched an 18-month high of 106.21 against the dollar on Monday, after the Bank of Japan declined to increase monetary stimulus last week as markets had expected. The yen has climbed more than 13 percent this year against the dollar.
"Even though I am away, there are phones and various ways we can communicate, and we are prepared to act appropriately if needed," Aso said as he departed to Germany for the annual meeting of the Asian Development Bank. Bank of Japan Governor Haruhiko Kuroda will also attend the meeting.
Aso's comments came as the U.S. is stepping up rhetoric on foreign-exchange practices. A semi-annual Treasury report included Japan on a watch list of nations whose foreign-exchange practices bear close monitoring to gauge whether they provide an unfair trade advantage over America.
Aso said the April 29 report in no way constrains Japan's ability to respond.
Monitoring Policies
The U.S. also put China, Germany, South Korea and Taiwan on the list, saying it will monitor policies to gauge whether they provide an unfair trade advantage over the U.S. The five countries have met two of three criteria used to judge practices. If a country meets all three criteria, it could eventually be cut off from some U.S. development financing and excluded from U.S. government contracts.
China, Japan, Germany and South Korea were flagged as a result of their trade and current-account surpluses, the Treasury Department said. Taiwan made the list because of its current-account surplus and persistent intervention to weaken the currency, according to the Treasury.
The report noted that Japan has not intervened in the foreign exchange market in more than four years.
The Treasury said it's increasingly important that Japan use all policy levers, including fiscal policy and structural reforms, to lift growth. Last month, Treasury Secretary Jacob J. Lew urged Japan to focus on boosting domestic demand instead of exports as the yen rises.
Before it's here, it's on the Bloomberg Terminal.
LEARN MORE