Anti-Semitism Row Seen Damaging Labour in London Mayor Election
by
Londoners of Jewish faith may question Labour, Khan Says

Israeli ambassador says parts of left in Britain are in denial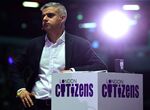 The anti-Semitism controversy engulfing Britain's Labour opposition could damage the party in the London mayoral election this week, its candidate has warned.
In comments published in the Observer newspaper Sunday, Sadiq Khan said his prospects of being elected had been hurt by former mayor Ken Livingstone's comments linking Adolf Hitler and Zionism.
"I accept that the comments that Ken Livingstone has made make it more difficult for Londoners of Jewish faith to feel that the Labour party is a place for them, and so I will carry on doing what I have always been doing, which is to speak for everyone," Khan said. "If I should have the privilege to be the mayor I will show Londoners the sort of mayor I can be."
Voters go to the polls on May 5 to elect a new Scottish Parliament and Welsh Assembly as well as a London mayor and local councils across England. Khan, who faces Conservative Party candidate Zac Goldsmith, is the favorite to win in London, though the party is set for losses outside the capital, polls suggest.
Labour leader Jeremy Corbyn sought to contain the crisis, and mounting criticism of his leadership, by announcing late on Friday that he's starting an inquiry into anti-Semitism and tightening party rules. Livingstone, now suspended from the party, said on Saturday he was sorry for causing upset but that his comments were "a statement of fact."
In Denial
Livingstone described Hitler as a supporter of Zionism in broadcast comments as part of his defense of lawmaker Naz Shah, who was herself suspended from the party in the House of Commons on Wednesday for posts on social media suggesting Israelis should be transported to the U.S.
Mark Regev, the newly appointed Israeli ambassador to the U.K., said parts of the left-wing in British politics are in denial about anti-Semitism.
"Of course people have the right to criticize the government of Israel. Israeli citizens do it every day," he told BBC Television's "Andrew Marr Show" on Sunday. "It's not about criticizing Israel. It's about demonizing the Jewish state."
Before it's here, it's on the Bloomberg Terminal.
LEARN MORE