Buffett Says Happiness From Coca-Cola Beats Broccoli Benefit
by and
He and Munger defend longtime investment in sugary drinks

Berkshire Hathaway is the largest shareholder of Coca-Cola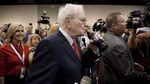 Warren Buffett, whose Berkshire Hathaway Inc. is the largest investor in Coca-Cola Co., said his happiness from drinking the sodas outweighs health benefits from eating more vegetables.
"I elect to get my 2,600 or 2,700 calories a day from things that make me feel good when I eat them," Buffett, 85, said at his company's annual meeting Saturday in Omaha, Nebraska. "I have not seen evidence that convinces me that it'll be more likely I reach 100 if I suddenly switched to water and broccoli."
The answer ignored a request from New York Times writer Andrew Ross Sorkin to discuss the effect of Coca-Cola on global public health without Buffett touching on his own diet. Buffett, Berkshire's chairman and chief executive officer, has heard from critics including hedge fund manager Bill Ackman over the investment in Atlanta-based Coca-Cola, as studies show sugary drinks may contribute to obesity.
Berkshire Vice Chairman Charles Munger, 92, said those who cite soda's detriments make the "ghastly error" of not also considering the advantages of consuming the drinks. He said people have to drink 8 or more glasses of water a day, and adding flavor to some of those drinks is a benefit.
Junk Food
Buffett has long affirmed his affinity for junk food and sweets, buying companies including See's Candies. Last year at the Berkshire annual meeting, the CEO said that happiness is important to longevity, adding that he didn't see smiles on the faces of people shopping at Whole Foods Market Inc. stores, known for offerings such as almond butter and organic frozen blue curled kale.
On Saturday, Buffett cited Census data that showed women tend to outlive men. He said about 10,000 men in the U.S. are more than 100 years old, while the number for women is about 45,000.
"If you really want to improve your longevity prospects, I mean a guy in my position, you have a sex change," Buffett said, evoking laughter from the audience. "You're 4 1/2 times more likely to get to be 100."
Before it's here, it's on the Bloomberg Terminal.
LEARN MORE