China Seeks Japan Ties Based on Cooperation, Not Confrontation
by
Foreign Minister Wang says `lack of mutual trust' remains

China hosts first Japanese foreign minister in over four years
China's foreign minister called on Japan to stop painting Beijing as a threat and do more to confront its wartime past if it wanted better ties between Asia's two biggest economies.
"We want to develop a sound and steady relationship of good-neighborliness and friendliness," Chinese Foreign Minister Wang Yi said in Beijing Saturday after meeting his Japanese counterpart Fumio Kishida. "It should be a relationship based on facing up to the history, living up to the commitment, and on cooperation rather than confrontation."

While Wang appeared to offer an olive branch during the first visit by a Japanese foreign minister in more than four years, he also said "the root cause for twists and turns in China-Japan relations is Japan's outlook on history" and that there's still a "lack of mutual trust."
Wang accused Japan of fear mongering, saying the government in Tokyo needed to "have a more positive and healthy attitude toward the growth of China, and stop spreading or echoing all kinds of China threat or China economic recession theories."
Relations between China and Japan are tense amid simmering territorial disputes in key Asian waters and lingering resentment over Japan's wartime past. Slowing economic growth in the two countries, which boast more than $300 billion in annual bilateral trade, is creating an imperative to overcome those differences.
China Rising
Once the dominant military and economic power in the region, Japan's economic muscle has been eclipsed by China. China surpassed Japan to become the world's second-biggest economy in 2010, and its stock market overtook Tokyo's in 2014. China remains Japan's biggest trading partner, and the decline in the yen under Prime Minister Shinzo Abe has attracted flocks of Chinese tourists who have propped up sagging Japanese retail sales.
"China and Japan are important neighbors," Japan's Kishida told reporters as the meeting got underway on Saturday. "I'm very happy that we are able to have this foreign ministers' meeting today. I'm also thankful for China's thoughtful arrangements."
Bilateral Collaboration
Kishida raised potential areas for collaboration with China including on finance, energy, dealing with an aging population, tourism and disaster relief, Masato Otaka, a deputy press secretary at Japan's foreign ministry, said after the talks in Beijing.
The diplomatic push comes as China prepares to host the Group of 20 leaders, including Abe, in Hangzhou in September, offering the chance for a rare meeting with Chinese President Xi Jinping.
"Both sides are wanting to prepare the ground for a Xi-Abe meeting, which looks positive diplomatically while looking strong politically at home," said Tim Summers, senior consulting fellow on Asia at Chatham House in Hong Kong. "The relationship seems to have stabilized: it will be unlikely to improve substantially at the moment, but the periods of real concern seemed to have passed."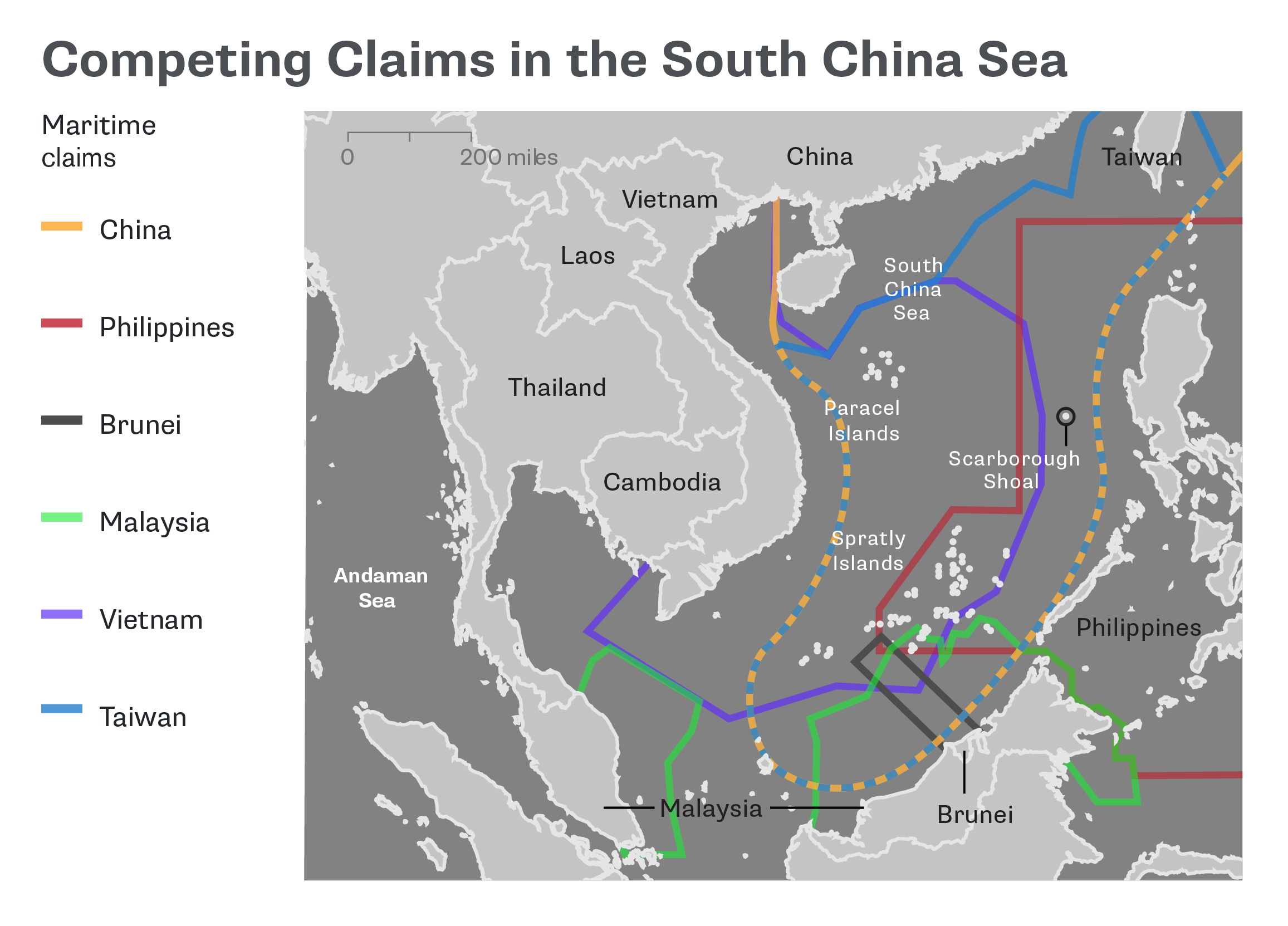 With its rising military and economic clout, China has become more aggressive in regional disputes, which is straining ties. In the East China Sea, where both China and Japan assert sovereignty over a group of uninhabited islets administered by Tokyo, coast-guard ships regularly tail each other, and China has declared an air-defense identification zone to lay claim to the airspace near the islands.
In the South China Sea, Beijing has reclaimed more than 3,000 acres (1,200 hectares) to build up artificial islands, some with ports and runways that will allow it to better assert its claims to a maritime asset that hosts more than $5 trillion in annual shipping. In recent months, Japan's backing of U.S. efforts to challenge China there by sailing warships near its islands has prompted warnings from Beijing that Japan needs to stay out of the dispute.
Wang didn't refer to either dispute directly, saying that in the international arena, Japan needed to "cast aside the confrontation mentality and work with China to maintain peace, stability and prosperity of the region."
"The fundamental strategic mistrust between the two countries will continue to dog the relationship," said Zhang Baohui, director of the Center for Asian Pacific Studies at Lingnan University in Hong Kong. "Their conflict in the South China Sea is actually intensifying as Japan starts to send naval vessels to the area."
Before it's here, it's on the Bloomberg Terminal.
LEARN MORE