Yen's Advance to 18-Month High Prompts BOJ Rate Check Concern
by and
Japan's currency gains versus all 16 major peers in April

JPMorgan currency volatility gauge falls to a five-week low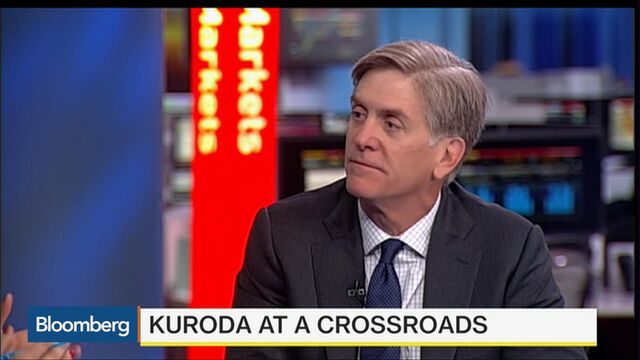 The yen's best start to a year in more than two decades is prompting some traders to expect the Bank of Japan to ramp up its use of verbal intervention to warn off speculators.
Japan's currency surged to an 18-month high against the dollar on Friday, poised for a third month of gains. It has strengthened 12 percent this year, the most since an 18 percent gain over the same period in 1995. The currency's safe-haven appeal in an environment of uncertain global growth has been amplified by questions about the central bank's effectiveness after a decision to implement negative rates backfired, driving the yen higher and weakening local stocks. Japanese markets were closed on Friday for a national holiday.

"The BOJ will only come in and say something if the market starts to get too aggressive" on dollar-yen, said Gavin Friend, a London-based strategist at National Australia Bank Ltd. "Any intervention needs to fit the description of a disorderly move and we thinks that's something in the order of 4 percent in one day."
World-Beating Gains
The yen jumped 1 percent to 107.04 per dollar as of 7:08 a.m. New York time after reaching 106.91, the strongest level since October 2014. It has advanced about 5 percent in April against the greenback. Japan's currency has appreciated at least 1 percent against all of its 16 major counterparts this month.
Friend said there may be "an orderly move" in dollar-yen toward the 105-105.50 level in the near term.
Gains in the currency appeared to be moderating this month until the BOJ's decision to hold off on further stimulus stunned markets Thursday, driving the yen to its biggest advance since May 2010. Its strength this year had helped convince some investors that Governor Haruhiko Kuroda would act to safeguard growth and stave off deflation. The meeting was the first under Kuroda where a majority of economists forecast additional easing that didn't materialize, data compiled by Bloomberg show.
Japan's policy makers can draw on a variety of options to manage foreign-exchange volatility, including trying to talk the currency down, or up. When volatility increases and jawboning may not be sufficient, the BOJ can call traders asking for a "rate check" to see the price of the currency against the dollar that can serve as a warning for them to avoid one-way bets.
"The BOJ's inaction does reinforce the perception in the near term that perhaps the central bank is running out of ammunition," said Sim Moh Siong, a foreign-exchange strategist at Bank of Singapore Ltd. "I don't expect intervention but I do think that dollar-yen could find some support around the 106 level. I would still expect some volatile movement today given the Japan holiday."

While the yen has surged, JPMorgan Chase & Co.'s global currency volatility gauge has fallen for three straight weeks to 10.58 percent, the least since March 21, based on closing prices. Lower volatility may be a signal that the yen is poised to unwind some of its recent gains, according to Australia & New Zealand Banking Group Ltd. 
When expectations of price swings diminish, investors tend to take on riskier positions, using low-cost funds in Japan to buy higher-yielding assets in countries including the U.S., Australia and South Africa.
"We have been bullish on the yen for some time, but at current levels the yen is already approaching our year-end targets," Daniel Been, a Sydney-based currency strategist at ANZ Bank, wrote in a report dated Friday. "If the low volatility environment persists, we think the yen will stand apart and should begin weakening."
Before it's here, it's on the Bloomberg Terminal.
LEARN MORE