WPP Outlines Steps to Find Successor for Founder Sorrell
by
Sorrell, 71, built advertising giant after starting it in 1985

WPP CEO's compensation for 2015 exceeds $100 million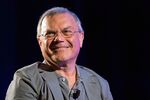 WPP Plc has begun steps to find candidates to take over the top role once founder Martin Sorrell steps down, preparing for life without the executive who's headed the advertising giant for three decades.
The world's largest ad company is identifying internal and external chief executive officer candidates, Chairman Roberto Quarta said in the annual report Friday. Sorrell, Britain's highest-paid CEO, is receiving compensation valued at 70.4 million pounds ($103 million) for 2015, according to the report. Most of the sum comes from a controversial incentive plan that has triggered protests from shareholders and public interest groups in recent years.
While Sorrell, 71, hasn't announced any plans to step down, it'll be a challenge to find a leader who can bring similar visibility to WPP as it seeks to outpace rivals Publicis Groupe SA, Omnicom Group Inc. and Havas SA. Sorrell is known for more than his marketing knowhow, appearing on television on weekly basis and attending events such as the World Economic Forum to comment on everything from economics to politics and fashion. He popularized terms such as "bathtub-shaped" to describe economic recoveries and "gray swans" to foreshadow trouble.
"He has a legacy almost on the level of Steve Jobs with what he's done to the world of advertising, with Publicis and Havas having always followed," said Cyrus Mewawalla, a media analyst at CM Research in London. "Sorrell has brought traditional advertising into the digital age."
Sorrell bought wire shopping-basket maker Wire & Plastic Products Plc in 1985 and used it as a shell to build an advertising conglomerate, which today operates in more than 100 countries and boasts a valuation of 21 billion pounds. Though he's led the company from the start, he's faced calls from investors in recent years to outline succession plans.
WPP shares declined 1.2 percent to 1,608 pence as of 11:15 a.m. in London.
"Shareowners should have no doubt that we already have a strong pool of internal and external candidates to draw from," Quarta said in the annual report. "I and the other independent members of the board will continue to focus on this in 2016 and beyond."
Under Sorrell's leadership, WPP acquired ad agencies Ogilvy & Mather, Grey and Young & Rubicam, and his companies have crafted campaigns such as the Dove "Real Beauty" commercials, the E-Trade Baby and "Hello Moto" for Motorola.
Mewawalla said WPP's goal should be a successful succession like the one undertaken at Microsoft Corp., where Satya Nadella took over from Steve Ballmer in 2014. "Nadella is in charge and everyone knows that and he's gotten no overhang from Ballmer or former CEO Bill Gates," Mewawalla said.
Before it's here, it's on the Bloomberg Terminal.
LEARN MORE